Ergo baby sling is now great for my 4 month+ old baby girl
by Mia - Karine Traverse
(Chicago - East Boston, MA USA)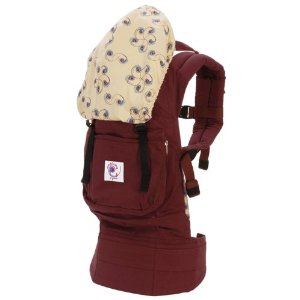 Mia: This is our first baby and we got the Ergo baby sling as a baby shower gift. I was disappointed when I first tried it - Lisa was 2 weeks old then ... :( there was just no way I could let her sit (or lie) comfortably in it at first, she would usually cry too.

We even put the Ergo baby carrier away. I thought a different type of sling would be better as long as she was so tiny, but I just didn't want to risk having another unused baby thing in the closet so I gave up on the whole idea of baby carrying.

I had read about your "Baby Sling Trick" before and when we really struggled to get her to take even 1 nap, I took the Ergo carrier out again. To my surprise ..... this time it was a snap! (Lisa was nearly 4 months old now).

She fit in nicely, could 'wrap' her legs around me and she absolutely loves it since then!

We had some nice spring weather, so every afternoon at 2pm (sharp :)) I'd put her in and go for a walk - I discovered a lot of scenic routes in our area by the way! The trick worked well too, she is now taking regular naps, nicely in her crib (unless I feel like going out for a walk :)).

But back to the Ergo baby carrier: I guess Lisa was just too tiny when I first tried it. Now it's just so easy and comfortable.

What I love about it is that I can walk for hours without feeling my back or shoulders - I could never hold her for that long myself! The soft straps are somehow doing a great job there.

I know that you can also carry a bigger baby on the back, we haven't done that yet but I think it will be fun in a month or two!

Karine: I now have a new love of my Ergo
carrier. My baby girl is hard to get to sleep. As soon as she becomes tired while out walking she wants out of the stroller which can be a task in itself if I am on my own. Whether in front or on my back she will fall a sleep within minutes.

I still get to be hands free, can push the stroller and be ready to grab my other two daughters in a second if needed. It also opens up my stroller should one of my older two girls need to lay down or take a rest during our walk.

It even comes in handy with my three year old when she is tired. If the baby is comfortable in the stroller I can put her into the Ergo on my back and she too falls a sleep right away.
Join in and write your own page! It's easy to do. How? Simply click here to return to Sleepy Baby Product Reviews.