Kid'sleep Classic Bunny Alarm Clock helps my early bird children sleep later
by Reine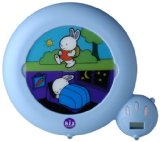 The Kid'Sleep Toddler Alarm Clock
My kids are early birds ... always waking up an hour or so before we are ready to begin our day ... :( We found this Kid'Sleep kiddy night light and it helped really well.

It has a round display, divided in two: the lower part shows a bunny fast asleep, the upper a bunny with a backpack in the park.

You can set the "alarm", so the light will switch from lighting the sleeping bunny to lighting the playing bunny.

That way, even a young child who can't tell time yet can see when it's OK to start the day. (brand: Claessens' Kids Switzerland, "Kid'Sleep
", just googled it and it's still available).

It worked really wel for us, the kids loved the little bunny straight away and quickly understood the whole idea.

I must say though that the manufacturer obviously focussed on the bunny pictures and lights, and less on making the alarm clock user friendly. It's OK, doable, to set the alarm but it could be a lot better.