Kid'Sleep Classic toddler alarm clock saved the morning
by Teresa
(Denver, CO)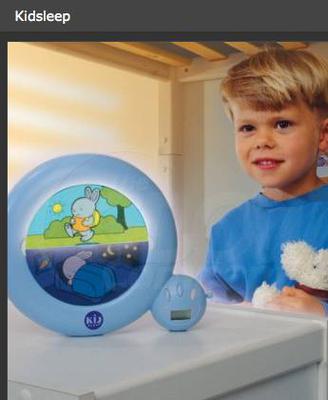 The helpful funny bunny clock ...
I purchased the Kid'Sleep Classic
toddler alarm clock in blue from Amazon to help curb my daughter's early waking. She was frequently waking at around 5am and yelling for us to come and get her.

At just past 2 years old, we thought we'd give the alarm clock a try. The clock has two interchangable plates. The primary plate serves as the wake up sleep indicator with one side showing a rabbit with a backpack walking around (awake!) and one with a rabbit in bed (asleep). The alarm clock has a light that switches between the awake and asleep side. The second plate is for using the clock as a night light only. The clock has three settings: nightlight, alarm (no sound), alarm (with sound).

There are multiple brightness levels too. You can set the alarm for one nap and one bedtime. If you do not set the nap alarm, the alarm will automatically switch to the sleeping setting 11 hours before wake up time.

We started setting the alarm for 630 am. As we were training my daughter to use the clock, when she would wake up before the alarm, we would go into her room and tell her that bunny was still asleep so it was time for her to go to sleep. We'd do that repeatedly until the alarm went off.

We did this combined with a sticker chart where she would earn a sticker if she stayed in bed until bunny woke up (you can get sticker charts here by the way). After about a week, she would call us in with "Bunny's Awake". And that was that. Over time we inched the alarm back to 7am. If we woke up before her, we would sometimes hear her talking to herself in bed waiting for bunny to wake up. We never had much luck with getting the nap setting to work for her.

Overall, I am really happy with this clock. There are a number of reviews on Amazon saying that is difficult to set. I didn't have that experience, although the digital clock display is very small, and there is no backlight. The product would be much better if the clock portion was backlit so that you could read the time in the dark.

My husband would sometimes fumble with the alarm on/off switch and accidentally turn on the alarm sound, so a rooster call would sound, and he only managed to do this on days where she was sleeping past the alarm, usually a Saturday morning (awesome...).

I did feel like the clock ran a little bit slow. After a few months, we noticed it was set a little behind the other clocks in the house.

Now that she's older, I have to say the alarm is less effective. She just gets out of bed and comes to our bed when she wakes up. But this isn't so bad. It's less disruptive then her yelling for us like she did as a toddler, and we all get a bit more sleep.

Now I just need to figure out how to get this to work for my early waking 10 month old...
Join in and write your own page! It's easy to do. How? Simply click here to return to Sleepy Baby Product Reviews.