Parents about Baby-Sleep-Advice.com
Thank you for your kind words! - Heidi
You are our sleep angel!
I just wanted to say thank you all the way from Sydney, Australia. When my sons paediatrician said we needed to try controlled crying I *respectfully* declined. But he was right about one thing, I couldn't keep surviving without sleep.

Your books have been a godsend. I started implementing by the clock naps under a week ago and we have gone from 30 minutes in arms to 1.5 hours in the cot in the last two days. I didn't even need to stop feeding him to sleep which I love. We continue to work on nights with your tips and I can already see an improvement.

You are our sleep angel!
Lisa J. M.
Sydney, Australia

I'm so glad I found this site!!!

I've been looking everywhere for something that can help me and my baby sleep more!
Amanda
Alberta, Canada

So grateful for Heidi's expertise and patience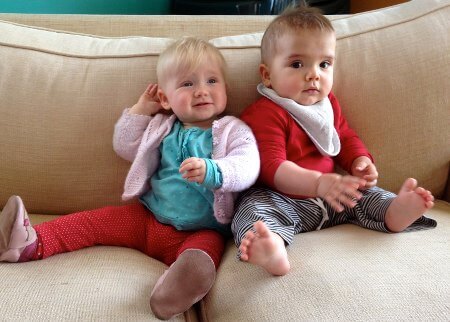 I came across Heidi's site during one of my many sleep deprived Google searches for gentle approaches to settling babies when our twins were 9 months. Its fair to say I was totally exhausted and sleep issues had become unmanageable.

We paid for a consultation with Heidi and over the course of several months received warm, compassionate, thoughtful and highly experienced advice that enabled our twin's sleep to improve dramatically and within a few weeks time frame.

We had evenings again! they didn't have 45 minute naps anymore! There was no crying! Heidi has always felt more like a friend extending a cyber arm around my shoulders when it all got too difficult - we are so grateful for all her expertise and patience.
Rosie J., mother of Amelie and Mario
KeriKeri, New Zealand

Thank you Heidi!

I have read SO much about baby/toddler sleep and you always manage to be the most helpful and reassuring. You have helped me far more than anything I have read mainly because I don't feel guilty about the way my baby is sleeping but feel more confident in getting him to sleep better!
An.
Thank you Heidi for a better life!

I'm the first time mother of a 10 months old sweet baby boy. He started off as a generally good sleeper but as he completed his 6 months, he began to wake up almost every 1-2 hours at night. We would give him the pacifier and he'd usually go back to sleep except for times where we'd needed to go through the cycle of picking up, walking, rocking, singing etc…

We blamed this on teething, on the weather (too hot or too cold), on his activities during the day… we tried sleeping early, then sleeping late, going down to 2 naps during the day etc… Nothing was working. And we were starting to see how this unhealthy sleeping is not working for him so we needed a solution. A lot of our friends/relatives were advocating the Cry it Out method. Well, my son was born with Hirschsprung disease (to those who have never heard of it – like me, it's a congenital malformation of the colon and it's only fixed with surgery). There was no way for me to add to all the misery of this disease such a harsh technique.

I finally found this website and the "Self Soothing" book. I read it in like an hour, only 2 days later, I started seeing improvements. Thank you again!
Rosalie
Beirut, Lebanon

Hi Heidi! wanted to tell you A GREAT BIG THANKS for your tips on self soothing the gentle way!
Our little girl is now 8 1/2 mos old and has been going to sleep more and more awake since trying the technique. She now goes down completely awake falls asleep in 10 min and goes back to sleep at night when she wakes!
She sleeps 10-11 hours a night and her naps have gone from 30-45 min to 1 - 2 hours! All with out the severe and harsh crying it out methods! THANKS!
I love your website! It is the best I have seen on SLEEP.. and I have looked
at a lot of them!
Anne Munnelly
Omaha, NE USA

Your site is awesome.
It is a great resource for information. We're just now getting to fully utilize your advise since our son is on a more consistent schedule.
Anonymous

Hello! First I want to thank you for offering such a great site. Its wonderful to hear...or read...that I am not alone.
Laura
Oakland, CA, USA

Hi Heidi! Thank you so much for your suggestions.
After reading your reply we tried a couple of your suggestions and I must say his sleep has really improved.

The suggestions that really worked for us was a stricter bedtime - he now goes to bed at 6.00 every night and we have increased his feeds in the evening and increased his solid intake as well.
He is still waking up at around 8.30 every night for a quick cuddle but after that he is sleeping through until 12.30 for a feed then back to bed until 6.00am and is down to 1 night feed. It was so nice to get some feedback from somebody who understood the situation. Thanks again.!
Rachel
Sydney, Australia

When you have a baby with a sleeping problem you feel SO alone. I was never one for leaving them to cry it out, so not being able to "crack this" made me feel like a complete failure as a mother.

But when I turned to Heidi I started feeling more hopeful. Heidi is like your best friend - she listens without judgement and then offers sound and practical advice, all the while being realistic about what you can achieve. She gives you the reassurance you need to keep going when you just want to give up, so that you feel empowered.

So when my baby FINALLY started sleeping through, I was able to look back on it and feel a sense of pride in knowing that I made it through all those hopeless, frustrating, sleepless nights, and those months of feeling like a zombie! I was there for my baby, and that was the most important thing for me. And the sleeping through part, that's all his doing!
Mary
South West London

Thank you Heidi. Your website is so helpful and realistic. It helps to know that you went through much of what we are going through, and that you aren't just a book that assumes all babies are the same.
Dora
San Francisco, CA, USA

I really like this site and was delighted to find it!
Elizabeth
Bryan, TX USA

Thank you so much for sharing your knowledge and experience!

It is so hard to find out what to do as there are so many different 'expert' opinions! I feel slightly pressured by my family to let her CIO because at the moment, as I don't really have time at all to do anything. So I'm hoping you can share your wisdom!
E Van de Rijst

I love you Heidi! No cry-it-out...yay!

Dear Heidi,

Thank tou for sharing such valuable information online, your techniques are great and progressive.
Meagan Londy
on No-Tears Self Soothing

Didn't subscribe originally for myself but was doing some research for a friend who is having difficulty with her baby sleeping. She now has a new routine in place and bubs is sleeping much better. Your top tips worked well.
Susan Warner

Hi Heidi,

Firstly thanks very much for the great advice on this site. Our baby is 17 weeks old and has always fought sleep, but the last couple of week have been very hard sleep wise and it's good to know there's a reason behind it!

Claire
UK

Would you like to add your own testimonial? That would be really great! You can easily
contact me here
.