Home

>
Isolde's sleep diary
Isolde's Sleepy Baby Diary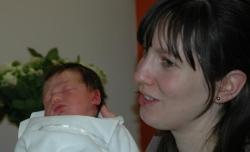 Welcome to Isolde's Sleepy Baby Diary: a weekly baby journal full of
real-life newborn
and baby sleeping tips
as her mommy reports on her family's sleep adventures.
We meet Isolde as a tiny newborn baby and closely follow her sleepdevelopments as she grows up and discovers the world around her.
Reading through other parents' experience like this baby journal is so valuable: it reminds you that
you are not alone
when you are up again in the middle of the night, wrecked with sleep deprivation after yet another broken night, or when you worry about snoring, a baby illness, ...
About Isolde's mom
Author of this baby sleep journal is Veerle, Isolde's mom.

Veerle is a wonderfully lively loving mother of three. Baby Isolde is blessed with two lovely siblings: big sis Daphne and big brother Alexander. Together with their proud dad, they make a beautiful close-knit Belgian family.

Veerle's writing is great and her fun-to-read diary entries show her sound approach to Isolde's sleep matters and young family life in all its aspects.
Veerle's sleep reports are inspiring and hold lots of great advice for all of us. Enjoy!
Click here to read Isolde's latest diary entries.
Isolde's Sleepy Baby Diary
~
Love this
sleepy baby journal? Check out baby
Silja's Sleep Diary
too!