Home

>
Silja's sleep diary
Silja's Sleep Diary
In Silja's Sleep Diary, follow the sleep adventures of baby girl Silja from newborn up to one year old, as reported by her mommy.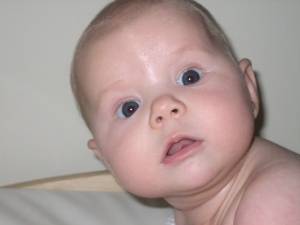 This precious sleep diary is
a great resource for tips and tricks
and is packed with
interesting and fun anecdotes
too.
Read about Silja's first nights at home, her night awakenings, the odd 'good night', her co-sleeper, finding suitable nap times, her baby sling, ...
Silja's sleeping will not be without troubles from the start, but little by little, she will find the best sleep for her.
And we'll learn along as Taru, her mom,
tries and finds effective tricks to get the best nights for the whole family
- and shares all of this with us in this exclusive sleep diary!
Silja's sleep diary entries
About Silja's mom
The author of this sleep diary is Taru, lovely Finnish mother of three.
She is a loving and dedicated mother with loads of experience (although she often claims the opposite...). With good humour, a lot of self-relativism, she goes about family life in a very true and interesting way.

She also has the great capacity to cherish and enjoy the little things in life which is another virtue I admire.

And I love her fun and catchy writing!
October 29,
one week old
: Meeting newborn Silja ... The cutest little baby girl loves cuddling up for feeding and discovers her co-sleeper.
November 5,
two weeks old
:
At two weeks old Silja spends her days feeding and sleeping ... like a newborn 'should'. On the lookout for an early newborn sleep schedule, her mom also tries out the baby sling and a dummy. She even gets a few long nights ...
November 12,
three weeks old
: Last week's sleeping through the night did not last but at three weeks old Silja's night awakenings are reasonable. Her mom learns about the caffeine effects on baby sleeping problems when breast feeding ...
November 19, four weeks old
: Four weeks old baby Silja takes great naps in the stroller and the baby sling. Her mom experiences light sleep deprivation effects and an energy drop after the rush of the first weeks ...
November 26,

five

weeks old
: At five weeks old Silja is no longer a newborn. Being a bigger baby brings the first smiles and some interesting experiments with afternoon naps, the dummy and a swaddle blanket. Plus a wise lesson about prioritising ...
December 3,

six

weeks old
: At six weeks old Silja seems ready for a reasonable bedtime. The Baby Sling Trick helps instill that early sleep schedule. Silja's parents debate about crying it out ...
December 10,

seven

weeks old
: Seven weeks old and Silja might be getting into an early baby schedule. But a baby cold and a tummy bug spoil the fun ...
December 17,

eight

weeks old
: At eight weeks old, Silja's baby sleep patterns are clearly changing and night-and-day difference is setting in. Silja also has her first night out ...
January 7,

nine to eleven weeks

old
: Silja takes her first flight. The jet lag, and maybe the Finnish sauna, actually help her adjust to an earlier bedtime. Learning to roll over gives a one-night sleep disturbance ...
January 14,

twelve weeks

old
: At twelve weeks old, Silja's mom discovers cloth diapers as a magical sleep trick. Silja seems to start sleeping through the night quite regularly ...
January 21,

thirteen weeks

old
: At thirteen weeks old Silja sleeps quite well, although her sleep is often light and she wakes up easily. Her mother decides not to start cosleeping. Silja's naps become a bit more solid ...
January 28,

fourteen weeks

old
: Fourteen weeks old now and Silja becomes quite dependent on taking regular naps: she's happy when she can have them, not happy otherwise. The little lady also goes baby swimming ...
Top of the Sleep Diary
February 18,

fifteen to seventeen weeks

old
: Seventeen weeks old now and Silja is developing her motor and social skills rapidly. The faithfully installed bedtime routine starts paying off ...
March 4,

eighteen to nineteen weeks

old
: At nineteen weeks old Silja takes regular naps and often sleeps through the night. Efficient breastfeeding helps avoid growth spurt sleeping problems ...
March 18,

five months

old
: Five months old in a couple of days and Silja is sleeping well at night while a bit unpredictable with her nap schedule. She is very busy discovering the world around her and practicing her motor skills ...
April 8,

five and a half months

old
: At five and a half months old Silja's sleeping skills suddenly seem a bit lost. Her parents find themselves cosleeping out of necessity. Traveling with baby and comfortable sleep appears to be an odd combination too ...
April 23,

six months

old
: Six months old now and things are settling down for the better. Silja has been starting solids and although they are not a huge success right away, they don't disturb her nights ...
May 8,

six and a half months

old
: Silja is practicing her motor skills intensively and eats solids like a big kid. Her naps are somewhat short to make it through the full day happily but her nights are OK ...
May 20,

seven months

old
: Seven months old now and baby Silja is doing very well: she takes longer naps and her nights are quieting down more and more. And her mom figures out the best eat-play-sleep routine ...
June 5,

seven and a half months

old
: At seven and a half months old Silja's sleeping schedule even leaves the flexibility for a relaxed family trip. Self soothing is improving too so Taru can stop worrying about the "bad" nursing-to-sleep habit ...
June 23,

eight months

old
: Eight months old Silja really enjoys a regular schedule and sleeps through the night quite well. And her mom discovers how to avoid comfort nursing successfully ...
July 22,

nine months

old
: Silja is nine months old now and settling in a new environment with her family after the move. Add to that teething and new motor skills in full development and you get ... the worst nights ever.
August 23,

ten months

old
: At ten months old, baby Silja is starting to settle well in a new routine. The regularity of her sleep schedule helps her sleep better too.
September 22,

eleven months

old
: At eleven months old Silja has started to walk and is doing very well on a regular nap, activity and night time sleep schedule. Unfortunately a baby cold spoils the fun ...
October 22,

one year

old
:
Happy Birthday Silja!!!
Silja is one year old today and it is time to celebrate a wonderfully precious year. Our big girl is enjoying the first steps towards toddlerhood. She does very well with regular naps but can cope with some flexibility too. And she sleeps through the night ...
Love this
sleepy baby journal? You'll
enjoy reading our
other sleep diary
in
Isolde's Baby Diary
too!