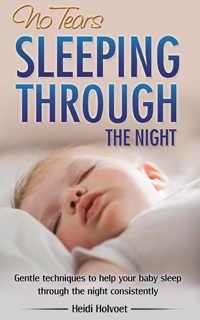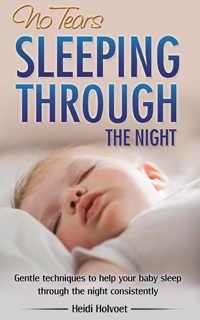 No Tears Sleeping Through the Night
Effective gentle techniques for settling and staying asleep
Heidi Holvoet
(author)

It really does work! The tips are very hands-on, loving and really work with no tears, which was very important to us.
Nina
more parent reviews
PDF e-book - Download & read on any device, within minutes
$9.95

About the book
Used and approved by parents worldwide, Heidi Holvoet's
award-winning 3-step program
helps you take your baby or toddler from 1, 2, 3 or more unnecessary night wakings to none.
Whether it's due to waking for too
frequent night feeds
,
nursing or bottle-feeding
to sleep (hunger or comfort), inability to
self-soothe
to sleep, inability to
stay asleep
for long enough stretches, a
stuck sleep pattern
, waking up
too early
in the mornings, ... there is a dedicated technique to tackle each cause and drastically improve your nights.
It's a
practical book with doable tools
for every step along the way, using the author's trademark approach to help you use the techniques to
suit your baby's unique needs
, which makes them all the more effective.
Winner of a Mom's Choice Award.
What's inside?
See below to
view the complete Table of Contents
.
Customer Reviews

I can't explain how amazing it is to have my baby boy sleeping through the entire night! I was army wits end, about to pay $30.00/hr to hire an overnight doula so that I could sleep, I was in tears every day & dreading 6pm when everything would erupt in tears, screams & frustration. Why wasn't my baby sleeping ?! Well. I got a hold of Heidi and it all changed. I read her book and put everything in to place & within a few DAYS .. Not weeks ... Days ... My first child was sleeping through the night & I was getting sleep and we became a lot happier ! Thank you for this book, it saved my sanity & my baby boys happiness.
Amanda Hamel

It really does work! I have read many books on baby sleep and the books by Heidi Holvoet are definitely the best and most helpful. The tips are very hands-on, loving and really work with no tears, which was very important to us. I was really relieved after reading the book and thought "finally someone that understands". Our nights have improved tremendously. Other books often only suggest "put the baby down awake". Great, but what if this just does not work? This book offers specific advice for many, many typical situations with a baby and guides you to the ultimate goal of sleeping through the night - very detailled, very to the point and yet easy to read and easy to follow. I can only recommend this book and I wish I would have already read it during my pregnancy. I also recommend "No Tears Self-Soothing " and "No Tears Naps" by the same author. Through these books we were finally also able to structure our days, have better nights and ultimately have a happy and relaxed baby (and
mommy).
Nina



We are down to one night feed! He is waking up at around 8.30 for a quick cuddle and after that he is sleeping through until 12.30 for a feed then back to bed until 6.00am. That is an incredible improvement for us!
Rachel, Sidney



Thank you Heidi, I truly doubt we'd be anywhere near sleeping through without you.
Belinda Trask



Your books have been a lifesaver ... the bulleted step-by-step
instructions are exactly what a tired mom needs!
Christine Tallamy

Info: This download is a risk-free purchase. If you're not 100% happy, you receive a 100% refund.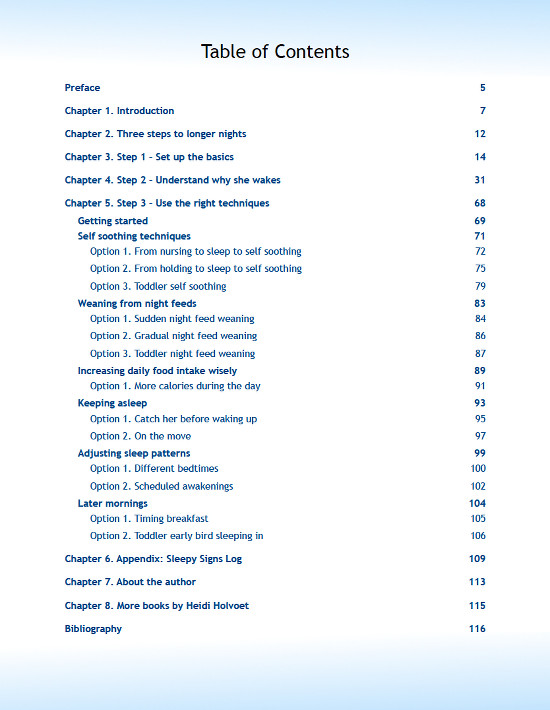 About the checkout procedure

Checkout is simple and secure: click, pay, download ... and read in less than a minute.


CLICK

When you click the "buy & download" button, the secure checkout procedure starts. This checkout procedure is secured by Sendowl.com, the company that takes care of the shopping cart and the secure payment gateways.

The payment gateways are processed by Stripe.com (credit/debit card payments) and PayPal (choice of PayPal account balance or account-free credit/debit card payments). Your financial data are secured with these companies.
PAY

After having clicked the "buy & download" button you will be offered a choice between regular checkout and PayPal.

Option 1: Checkout.
Regular checkout will give you the chance to enter your bank card details or use Apple Pay if available on your device.
Option 2: PayPal.
This option allows you to pay via PayPal, either with your PayPal account balance or simply your bank card details.
DOWNLOAD

Once your payment is confirmed you will arrive at your unique secure download page on this website. Follow the link on that page to
instantly download
the e-book. It comes as a a PDF-file which you can read on your computer or mobile reading device (any smart phone, tablet or e-reader).
You will also receive the download link by e-mail for further use so you can easily access it at another time or from another device.

Problems? Questions?
If you have any question or concern about downloading this book, please don't hesitate to contact me. Also if you require a hard-copy printed version of the book, email me at heidi@baby-sleep-advice.com.