Avoid sleeping problems from baby separation anxiety
Baby separation anxiety
is an often unrecognized cause of disturbed sleep. Your child refuses to settle at night or for naps, stops
sleeping through the night
, often wakes up crying, ...
Fortunately you can
prevent sleep problems
at night during separation anxiety phases with a few simple ideas and techniques, right below. But first a quick look at what it is and how to spot it.
What is baby separation anxiety?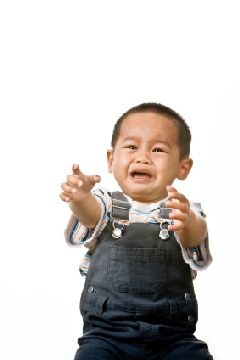 Baby separation anxiety is
when your little one fears never to see you again after you leave
.
This can be when you leave her with another carer but just as much when you go from one room to the other in your home.
Or
when she wakes up at night and you are not there ...
Observing your child's separation anxiety may be heartbreaking but it is actually
an important development phase
. It is how she learns to be an independent person.
It usually starts around 4 to 6 months and peaks at about 1 to 1,5 years old. Still, some babies get rid of it completely by 12 months and others still suffer at 2.
First, as a newborn, your infant knows no better than she will never be separated from you. On the other hand, at this age, she does not remember that you exist when you walk out of the room.
At about 4 to 6 months, she learns that you and she are different beings and she also remembers you, even if she does not see you. But
she does not have a sense of time nor the experience to know that you will be back soon
. She thinks it's forever ...
Feeling anxious about not having the security of your presence is only natural then.
Needless to say that
baby
separation anxiety at bedtime
will make it harder for to settle, or to self soothe when waking at night.
How to recognize baby separation anxiety
The first step to help her through this phase successfully is to
recognize
her baby separation anxiety. Acknowledging her fear will help her overcome it.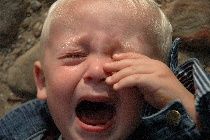 You may not notice at first, and wonder why she cries even if you leave the room for just two minutes. Something she didn't seem to care about before.
Or if she's in granny's arms, which she enjoys so much, and you take a few steps out of sight ...
Or if she doesn't sleep through the night anymore but frequently wakes at night all upset ...
Do not think that she is spoiled and tries to get your attention to trick you.
Her fear is real
. Comforting and reassuring without dramatizing is the best help you can offer.
How to avoid sleep problems due to separation anxiety
The first thing we all need to sleep well, is the knowledge that we are safe and secure. Your goal when dealing with separation anxiety is to
grow her confidence
in being separated from you, namely that you will be back.
Here's what you can do:
Play peek-a-boo and hide-and-seek
From a couple of months old, start playing peek-a-boo games regularly: hide your face and then re-appear ... your baby will giggle in delight.
Gradually hide your face for a bit longer each time. Also hide underneath the table, or behind a door. Watch your little one to see how far you can go.
Or it can be her hiding from you ... I've never met a child who doesn't adore this game!
Play these games frequently: by seeing you re-appear each time, your child learns that
you will be back even if she doesn't see you all the time
.
Talk about what you will do
Babies understand a lot more of what we say than we realize.
Therefore, it is a good idea to tell her what you will do while she sleeps.
Show her e.g. where in the living room you will be reading a book or in which part of the house you will be doing chores.
Also, if your little one does not sleep in your room, it is a good idea to make a visit to your bedroom part of the
bedtime routine
. Knowing where you will be at night may be all the reassurance she needs when she wakes up.
As heartbreaking as it may be, do not cry along. If your child sees that you are confident and that
it is not a big deal
, that trust will grow in her too.
However, if you cry with her, she will understand that it really is a bad thing if you are not together all the time.
For putting her to bed this means: go through the bedtime routine as usual, and leave the room just as confidently as usual. Do not hesitate but comfort and reassure when necessary.
If possible, it is a good idea to have your partner or another carer regularly take your infant to bed. This will help her
get used to not being with you all the time
.
However, if you breastfeed, you may naturally grow into the only person that brings her to bed. By the time you stop nursing and want to have someone else put her to bed, the separation anxiety might be at a peak.
You can wait for the worst of the anxiety to pass.
Alternatively, gradually get your baby used to others taking her to bed by doing it together at first, taking turns, etc.
This is a tiny but powerful trick, most useful for an older infant of one or towards two years old.
When putting your child to bed, and she feels uneasy, tell her that you will come back to check on her soon.
And then do go back, but very quickly, let's say within two minutes. This way she learns that
you do come back when you say so, and quickly
.
Doing this a couple of times is often enough to reassure her and you may soon find her to sleep before you get the chance to go back to her room.
Or would it be ...?
Guiding your child through phases of baby separation anxiety is not always easy.
But it is rewarding to help your child in this big step: giving her the
confidence
to be a person by herself, knowing that you are still there for her, and always will be.