Fun Toddler Sleep Help: the
Super Sleeper

Reward Chart

A sticker reward chart is a powerful tool to help guide toddler sleep habits. Print the sticker chart (free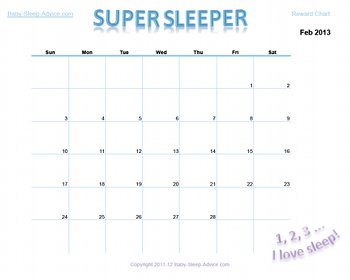 download below), get cute stickers and read the how-to below to get started with this fun and powerful (!) tool.
Positive encouragement proves it success time and again in your child's development.
As he/she grows towards toddler hood it becomes even more important. Also, and especially when it comes to sleep: every positive association is a valuable investment for healthy sleep in the future.
With a reward chart, your toddler becomes proud of sleeping well.
In this way he/she learns that getting a good nap or night is important, not just to make mommy and daddy happy but also to feel good (about) yourself. That is an important lesson for life.
3 easy steps to get started:
Step 1. Download your monthly reward chart
There's a chart per month, download the one you need below - simply just click, or right-click the appropriate link below.
March 2018 Super Sleeper Chart
April 2018 Super Sleeper Chart
May 2018 Super Sleeper Chart
Come back here to find the next months as time moves on.
NEW!
How about one of the gorgeous
Track Me charts
you can print for free from KiddyCharts. I love these because they nicely show your child how far she/he is in the journey and what's coming at the end: the reward!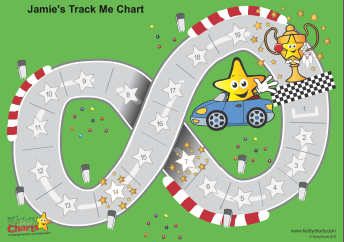 What is really cool is that you can customize your chart with your child's name, favorite theme (racing, fairies, princesses, ...) and even the reward (going bowling or skating, playing the computer, buy a magazine, ...).
I appreciate how these goals are simple (no expensive toys!) fun things to DO which makes them good ideas for
real honest rewards
.
To customize and print your free chart you do need to register with your e-mail address but that is quick and easy.
After that you have a handy account in which you can keep track of all the charts you created, and choose which ones to print.
Step 2. Find cool stickers
Your toddler will love his reward chart! Especially with lots of cool stickers to choose from, like this
Super Sticker Assortment
.
The main strength of a sticker chart is that your child feels your positive encouragement. The effect may be very subtle but he will try his best to do well.
To give your applause and cheers just that extra bit of power
... a simple set of cute & cool stickers is all you need.
Choose them together, pick a character he particularly likes, a theme that interests him or just a mix of silly ones that you know will draw his attention.
The more attractive the better!
Or if you know that will be a success, you could even treat your kid to a funny drawing in the sticker spot as a reward instead ...
Step 3. How to use the sticker chart
Working with a sticker chart to guide and correct your toddler sleep habits is very easy.
First, a couple of days before you start, patiently explain to your child what you want him to do, for example not hop out of bed after bedtime. Do this a couple of times so it is nicely clear what you expect.
Show him/her the chart and the stickers, explaining that he/she can stick a sticker each morning after a good night. Decide on a start day together and put the chart in a place where you all see it every morning (near the breakfast table?).
Then, after a good night: applause and time to stick a sticker! If it didn't go well, then no sticker but don't give it too much attention either. Just a casual "next time will be better" and that's it.
Play it by ear and be flexible enough to award a sticker even it wasn't perfect but if he/she tried hard ...
At what age can you start using a sticker reward chart?
There is no single 'right age'. It heavily depends on your child's personality and whether you can tickle his interest in the chart and stickers.
18 months can be old enough to give it a try - never underestimate your little cutie ...!
Or you may have more success if you wait until 2 years old. And after that, at 3, 4, 5 years old and above a cool sticker reward chart still works wonders. For example, it's one of the most successful
bedwetting solutions
.
In which situations can you use a sticker chart?
Any situation where you want to encourage your child to behave correctly in order to sleep better, and to keep peace and quiet for the whole family during the night.
Staying in bed/bedroom after bedtime, not shouting out for you in the middle of the night or too early in the morning, not playing in bed, waking up siblings, not crying when losing the pacifier (encourage finding and putting it back alone), ...
Good luck!