Why, when and how swaddling helps baby sleep better
Swaddling is a gentle technique that can highly reduce unnecessary wakings during naps and nights. If your baby easily startles awake in the first weeks, consider this age-old technique: it is easy to do and if done correctly (which is crucial for safety, find out how below) it helps to put your little one down safely for optimal sleep.
In this article, my dear colleague Pam Diamond from North Carolina will be sharing her wealthy experience working with newborns and young babies with us. Pam is postpartum doula, baby sleep consultant and owner of First Daze & Nightzzz.
Why swaddle?
One of the most useful tools in the new parent's tool kit is a swaddle.
Newborns are born with the Moro - or startle - reflex, which can easily wake an unswaddled baby. You know, it's when a baby who is lying/sleeping peacefully, very suddenly stretches arms and fingers out, in a reflex, and then pulls them back in. It is believed to be a reaction to a subconscious feeling as if losing support or falling.
That reflex is completely harmless and normal (and I think it is such a sweet and precious thing to witness (
Heidi
)) but it does tend to cause many a half and often a full wake up. That's when swaddling can help.
Being swaddled properly recreates the familiar womb-like sensation and helps prevent those startled wakings. But not only that, being snugly swaddled helps with calming down, going to sleep, and just generally sleeping more peacefully.
Is it safe? What about SIDS risk?
Yes when done properly swaddling is safe. The incidence of SIDS is lower in properly swaddled infants when sleeping on their backs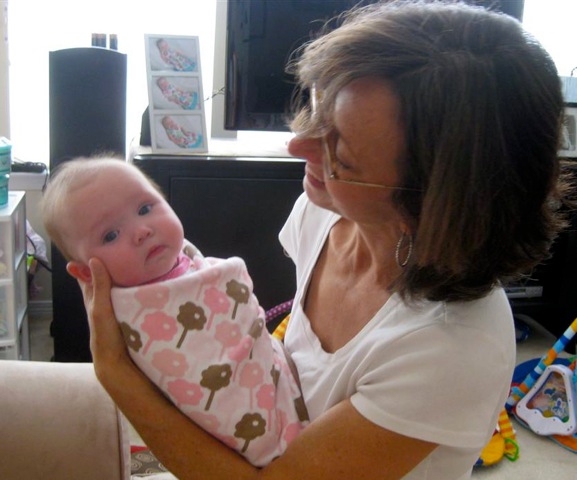 but - and this is important - the risk increases greatly with prone swaddling.
Also, for premature babies or those with medical conditions or concerns, you will want to check with your pediatrician before using a swaddle.
There are
3 golden rules for swaddling safely
:
Rule #1
Swaddle correctly using
appropriate technique and suitable blankets
(see
techniques and material recommendations
further in the article)
Rule #2
Place a swaddled baby
on her back to sleep
- Though the incidence of SIDS is lower in infants sleeping on their backs properly swaddled, the risk increases greatly with prone swaddling.
Rule #3
Do
not swaddle a very weak or a very strong baby
(
see age guidelines right below
)
In rare cases, a baby who keeps breaking out of a swaddle - even the Miracle Blankets or Pam's Houdini-proof method - then parents might want to see if baby is happier being unswaddled, perhaps using a sleep sack or a Zippy instead.
When should you stop swaddling?
While it is easy to know when to start - from day 1 unless your baby is premature in which case your doctor will advise - knowing when you should stop swaddling is important, especially to keep it safe.
Swaddling should be used for naps and night sleep in the early weeks and months. The American Academy of Pediatrics recommends it for newborns to about 14 weeks of age. This is about the time the startle reflex disappears and babies gain the coordination to bring their hands to their mouths to self soothe.
It is also when many start to learn to roll over on their own from their backs to their bellies. Since the risk for SIDS increases greatly when swaddled and lying prone,
being able to roll over is a clear sign that it is time to stop
.
How to stop swaddling?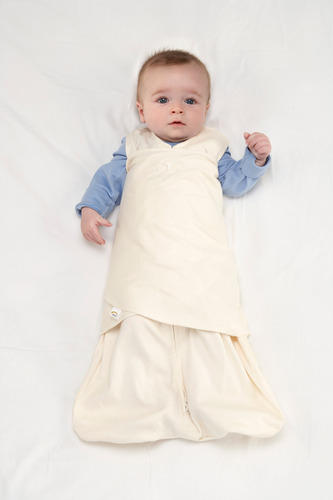 Once babies are rolling or working hard on rolling, it's time to begin weaning from the swaddle. There are several approaches one can take from going cold turkey to gradually weaning by unswaddling one arm at a time.
The gradual approach will give your baby
the gentlest transition with the least sleep disruption
.
You go about it by lightly loosening the grip a bit at first, little by little, and then move on to unswaddling one arm first before also freeing the other. Take your time, about 1-3 weeks for the whole process is common.
There are also some products on the market meant specifically for weaning from a swaddle. Pam's current favorite is the Zippy (
zipadeezip slumber sacks
). And then there is the ever popular
Halo Sleepsack Swaddle
(as in the picture).