Magic Merlin's Sleepsuit possesses some magical power
by Jessica
(Petoskey, Michigan, United States)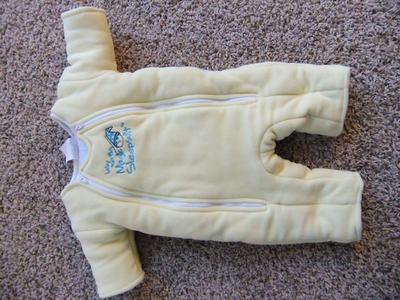 When my son was 2 months old I purchased a Merlin's Magic Sleepsuit
for him because he was able to breakout of all the swaddling products we had. It didn't work well for him at that age but, at 4 months we tried it again with success!

When he met his rolling over milestone we couldn't keep swaddling him. We tried sleepsacks( they were wonderful for our daughter and I imagine will be for our son in due time) and he would not settle in them.

We tried Merlin's Magic Sleepsuit and he slept in it all night (besides his usual night waking for a nip) We have been using it for naps and nights for about 2 weeks. He has a little bit of trouble settling for naps in the suit, but he has nap issues more than night sleep issues anyway. He has been doing excellent at night in the suit!

The suit looks like a puffy fleece bunting (if its not magical for you, I can say you will at least get a smile out of looking at them in it:) Although it looks like a baby would overheat in it, the inside is not fleece and stays cool to the touch. We are using it in a cold climate right now.

Our son sleeps in light weight p.j.'s or a long sleeved onesie with footed pants or socks and pants and has never had a temperature problem while wearing the suit. The bulkiness of the suit is to muffle the startle reflex.

It was a little pricey in my book, although it is a nicely made product and it has worked for us, so I am happy we invested in it.

It was designed by a mom for transitioning from swaddling, which is precisely what we are using it for. My husband was a bit skeptical when I bought yet other sleep product, but is now a believer :)

I hope this review will help others if you are thinking of purchasing a Merlin's Magic Sleepsuit. I have encountered, and am still encountering many sleep issues with my two little ones and I know I always appreciate an honest review coming from someone in the same boat!