Arm's Reach Cosleeper: A Top Choice
The Arm's Reach Co-Sleeper is a top brand offering a wonderfully safe bedside crib. These cosleepers
attach securely
to the parents' bed in a unique way and are adjustable to different bed and mattress sizes and heights.
The conversions to a stand-alone crib - quite important for when you move baby to her own room later on - play pen or even a bench are a great plus. This helps make up for the price tag because you don't need to buy those items separately.

Why choose an Arm's Reach Cosleeper?
The products of this company have gained themselves a strong reputation. They are
sturdy, reliable and safe
.
They are easy to assemble and attach safely. (Not attaching safely is the dreadful risk of non-certified or lesser quality sidecar cribs).
Each cosleeper model
converts to a free-standing bassinet
too, which is simply a must.
One day you will want baby to sleep independently, in your room but away from your bedside or in her own room. A simple conversion make this possible, upping the value of your investment in this crib.
Most models also
convert to a playard and/or a changing table
and actually extends the life and value of it even more - until long after baby outgrows it to sleep in.
Good examples are the
Original
(pictured to the right), the
Universal
and the
Mini-Convertible
.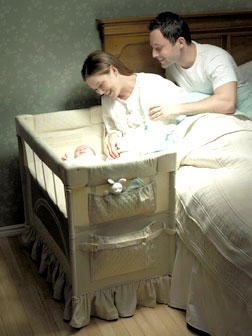 Even the
Arm's Reach Mini Co-Sleeper Bassinet
(picture on the left) offers this conversion. And being an honorable
mini
, it has the added benefit of being a tad smaller and less cumbersome. That makes it ideal for smaller spaces.
All of this, combined with it quite reasonable price tag make this
mini
my personal favorite by the way.
The very stylish
Sleigh Bed
models convert to a mini-bench: a "Read to Me Love Seat". Another great way to enjoy this product well after baby outgrows the bassinet.
The
Universal
,
Original
and
Sleigh Bed
models hold two babies quite comfortably so twin babies are not excluded from this great sleeping option!
Another great plus is the storage compartment all models have: perfect for diapers, wipes, a blankie, ...
Important: When choosing your model
, measure your bed and mattress height before ordering. The descriptions regarding height requirements are nicely precise. You may need to order leg extensions to make sure your preferred model comes level to your own bed.
The company offers matching mattresses and fitted sheets too, both in a classic and an Organic Cotton version.
Is it expensive?

Yes and no.
This quality brand and type of crib require an investment for sure. But quality costs and in this case you get important value for money.
Not only do you get a safely attached cosleeper crib - offering both the benefits of cosleeping and the safety and comfort of independent sleeping - you also have a standalone crib as soon as you decide to convert (and you can go back and forth if needed). And you can also convert it to a playpen, or in some models even a cute bench.
That hugely increases the value of your original investment.
So if you do have some budget for a good quality crib, an
Arm's Reach Cosleeper
may just be your clever choice.