A Cosleeper Keeps Your Baby Close And Safe
"Simply the best cosleeping solution"
A cosleeper, or bedside crib, gives you all the benefits of cosleeping
plus
the extra safety and independence of a separate bed. That's an excellent balance between the critical ingredients for developing healthy sleep skills:
you being near for reassurance and easy feeds without interrupting sleep and
baby having her own safe independent place

Why choose a bedside cosleeper?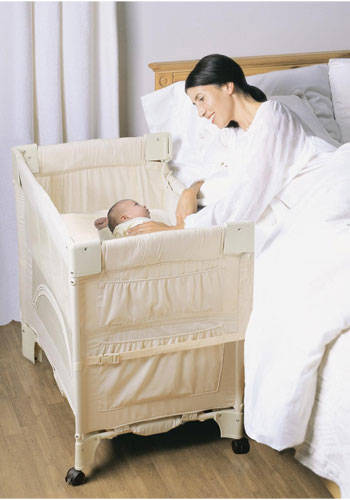 How it works: it looks like a classic baby bassinet, where one side is dropped, and shifted to your bedside.
That means you have your
baby within reach
for feeding or comforting at night. But she is also
in a safe space
, her own space.
The general co-sleeping benefits are:
Baby sleeps better

: just like all of us, a baby sleeps better she feels safe and secure.
Baby is safer

: in those first months, your presence when baby sleeps is a top protector in the battle against SIDS, or cot death.
Parents sleep bette

r: most parents worry less and therefore sleep better with baby near

No-fuss night feedings

: whether

breast feeding

or

bottle feeding

there is much less fuss to get the feeding done.

That means you can both stay in a dozing state, which makes it easier to go back to sleep afterwards. This is critical to develop healthy sleep patterns.

And with the sidecar crib you also have these added benefits:
Crib safety

: many parents hesitate about cosleeping because of suffocation danger and the alleged risk of SIDS. With a cosleeper, your child is in her own safe place, with no risk of a parent rolling on top of her there, in line with the cosleeping safety guidelines. Or the risk rolling off the bed.
The relative sleep independence will be an important help later on when sleeping alone is high on the agenda.

Baby is comfortable

: as snug as lying next to mom or dad is, many babies sleep restlessly when truly cosleeping. Being in their own bed gives them all the comfort they need to sleep deeply.
Fits in small bedrooms:

if you have limited space in your bedroom, the cosleeper takes much less space than a standalone crib.
How to choose

There is no way around the price tag of a good bedside crib. But it's not necessarily high above a regular good quality one. And for most of us, it is worth every last cent because of the positive sleep experience and long-term sleep skills learned.
Especially the convertible ones are cost-effective, since they last well into toddler hood and sometimes beyond (like the one that converts to a bench (!)).
When shopping around for your preferred one, just keep this checklist in mind:
A good bedside bassinet is (easily!)

convertible

to a regular crib, play pen or play yard once you all grow out of sleeping in the same room.

Make sure it is

adjustable

to your specific bed height and mattress size, if necessary with leg extensions
A built-in

storage compartment

is not essential but can be very handy to keep diapers, wipes and the likes at hand.