Baby Sound Monitors Review, continued
Continued from part 1, my recommendations for baby sound monitors in the categories
Hear Baby Breathe
and
Digital Sound Quality
. And we round up with extra troubleshooting tips (static, lights, volume) for common issues with these devices.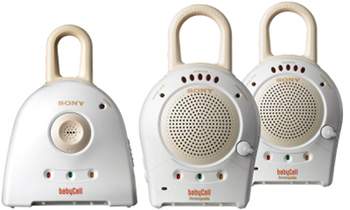 Hear Baby Breathe
The
Sony 900 MHz BabyCall Nursery Monitor
monitor works on a 900MHz frequency is a good choice: not the cheapest but not expensive at all for its quality.
Its main quality: it is sensitive and clear sounding enough to hear your baby breathing.
It has 27 different channels to switch to: a lot of chances to find a channel that does not have much interference with other devices in your house.
It comes with an AC adapter but also has a rechargeable battery (built-in and with a low-battery alert). I like the fact that it has the 'Activity light signals' so you can also see when you baby makes a noise.
It has a good long range, so you can move quite far away from baby's room. And it alerts you when it looses signal: when too far away or when another signal interferes destructively. Some parents report that this alert goes off too easily, especially when you have your mobile phone near. Others prefer an alert too many than one too few.
Digital Sound Quality
The first one in the digital range with DECT technology is the
Philips Avent Basic Baby Monitor with Temperature Sensor
. It gives excellent sound quality, no worries about interference or annoying static sounds.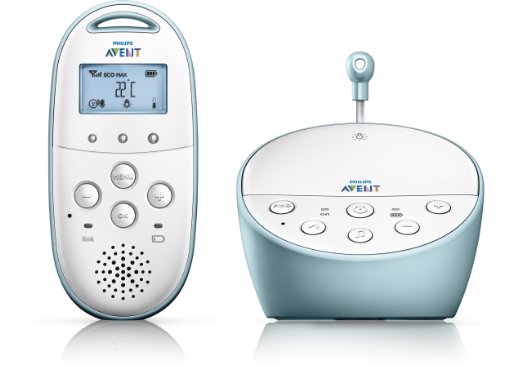 You can tune its sensitivity: this way you can opt to hear baby breathe. But you can also choose to only hear louder noises (crying, e.g. in an older baby or toddler).
Good feature: It speaks two-ways - Talk Back - which can be helpful (and fun when baby gets bigger :)).
You have the option to plug it in, or use the batteries (and be alerted when they are about to run out).
Most parents are totally happy with this one. One flaw is that the volume level is not as high as some need, like when using it in a noisy room or outdoors.
Also the activity light signal, which is good to have, can not be switched off. So you may need to hide it with a towel or some tape if you have it near at night.
This baby sound monitor has the good extra of a temperature sensor in baby's room, with a display on your receiver. It also has a few lullabies that you can switch on from your end, and a soft glowing night light.
Baby Sound Monitors Troubleshooting
What if your
sound monitor
does not work well for you? Before returning it or buying a different monitor, try the following home made tricks:
I get too much static
Firstly make sure you have it set up correctly, double check the manual as it can be a detail. Also try using batteries only, and then try plugging it in.
Then, as a test, switch off all other appliances near both transmitter and receiver. If the static goes, switch them on again, one by one, to find out which cause(s) the static.
The activity lights are too bright
If your monitor does not have the option to keep these lights off, use dark colored tape to hide the lights. Or hang a dark towel over your unit, but do make sure you still hear what you need to hear.
The lowest volume is too loud
Put a towel over your receiver. Or, stick a few layers of tape onto the holes where the sound comes out.
The highest volume is not high enough
This can happen with cheap monitors, due to static. It can even happen with some expensive ones, when using the monitor during the day, outside or with a lot of activity/noise going on.
Sadly there is not much you can do about the volume level, but do look for ways to reduce noise around you.
Many baby sound monitors have activity lights. You can use those lights as a backup to the volume by putting the receiver in sight near you.