Crib safety guidelines
Crib safety is your number one priority when putting your baby to sleep. Follow all guidelines below to protect your child from SIDS and prevent injuries.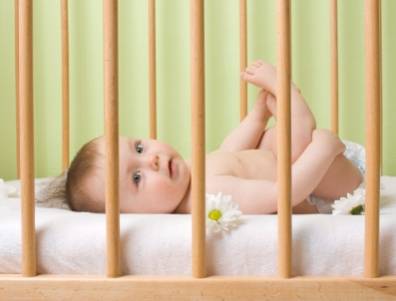 A safe sleeping place automatically makes your little one feel protected and secure.

And at any age, it is when we feel safe and secure, that we can relax en are able to sleep well.
So
a safe crib also helps your baby sleep better
. And knowing that your child is safe, you'll feel and sleep better too of course.
Note:
All guidelines on these pages are based on international health and safety regulations from reports by governments, health and sleep research associations.
Crib safety guidelines
An under one year old should sleep in a crib (or cot, or baby bed) that leaves no risk for her to get stuck with any part of her body.
Making your baby's bed safe is an important
SIDS prevention
task.
With "bed" here we refer to any baby size bed, usually wood, with a frame (made up by the slats) around it to ensure baby cannot roll or fall out.
Some cribs have adjustable mattress heights. These can be used during the first months when there is no risk yet of climbing out. With the mattress higher up you don't have to reach so deep to put your little one in or take her out.
A safe bed
will have the following characteristics:
The bed is in a perfect condition and correctly assembled. No loose or broken parts.

Bed slats high enough or the crib mattress deep enough to prevent baby from rolling out, or an older baby from climbing out.
A distance between the slats from 4,5 cm (1 3/4 inches) to 6,5 cm (2 3/8 inches).
A firm and tight-fitting mattress so that baby cannot get stuck between the mattress and bedside or slats.
Tightly fitted bumpers (often used to decorate and soften the sides of the bed) are OK only as long as your little one is not mobile. Remove them as soon as your baby could start climbing or pulling herself up using the bumpers.
A mobile is OK as long as it cannot be reached and pulled into the bed.
Make sure

no small parts

like screws or protection pads can come loose or stick out.
Crib safety questions
A folding
travel crib
can be used but is only recommended when the real crib is not at hand, e.g. when traveling or sleeping over at family or friends.
Most of all the travel crib must be in an excellent condition, be set up correctly and have a firm and tight-fitting mattress ... and have nothing but the baby in it.
When can I use a small pillow in the crib?
Never use a pillow under one year old and preferably only after your child is two years old.

The head can sink in the pillow and that prevent good breathing.

A pillow will also heat up your child which can be dangerous as well.
Duvets and warm covers will heat up your baby too much which increases the risk of SIDS.
It is better to use a layer, or several layers, of light blankets/sheets. Remember to place the feet at the foot end of the bed so she can not slide downwards and under the covers.
Better still is a well-fitting
baby sleeping bag or wearable blanket
. It will keep baby covered without overheating (choose a light one) and without the risk of covering her head.
Make sure the sleeping bag is the right size so your child cannot slip down into it.
Combine these crib safety guidelines with the guidelines to
prevent SIDS
for optimum security.