How to Use and Choose a Toddler Bed Rail
A toddler bed rail protects your baby or older child from falling out of bed.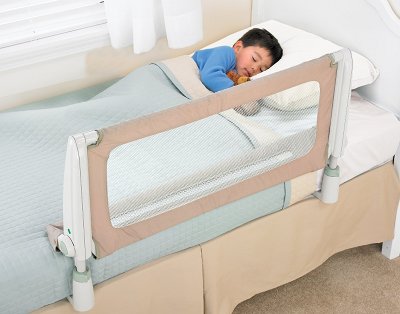 A good one effectively helps your toddler transition from crib to bed in a safe and no-fuss way. You can also use a safety bed rail or bumper arrangement to set up a secure co-sleeping arrangement at any age.
When choosing which one to get, as with any product, your child's
safety
is the main concern. As a rule of thumb: the smaller your baby, the stricter the safety precautions you will need to think of when choosing and installing the bed rail.
The main risk will be for a young baby to get stuck between the safety bed rail and the mattress, which can be fatal for a little one.
But also at any later age you need your child in bed safely both to prevent injuries and to avoid unnecessary awakenings.
Which type of safety bed rail is best for you?
That depends on what you will use it for:
As a toddler bed rail to transition from crib to bed
or
As a family bed bumper to keep your baby from falling off when co-sleeping
Let's see how to make your best choice for either use.
Choosing a toddler bed rail to transition from crib to bed
Moving from her familiar protective crib to a big bed is an important step for your baby. A toddler bed rail helps with this transition in 2 ways:
It protects your child from falling out of bed, which avoids getting hurt and traumatized about sleeping in the big bed
It creates a more cozy,

hugged

sleep environment, which effectively improves sleep (often under-rated, but it is proven that a pleasant place to sleep truly helps!)

When selecting, I recommend you check each of these requirements:
Pay attention to how the rail is attached to the bed. A large part of the material must slip under the mattress to prevent it from crashing down.
Even better: have a sturdy top-of-mattress attachment to avoid any gap. This is especially important for small babies.

A good top-of-mattress rail is the
Safety 1st Secure Toddler Bed Rail
(pictured at the top of this page).
What I also appreciate is when, once installed, you can fold the standing-up part down without needing to un-install the whole thing. That is very convenient at bedtime, for example when you are sitting on the bed together to read. Or to change the sheets ...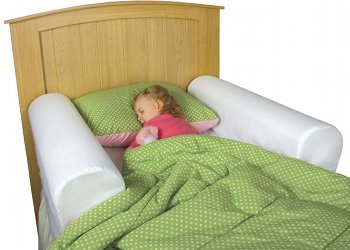 Leachco Roller Bolster Bumpered Twin Bed Sheet
Some, but not many, have an extra pocket on the outside. Really practical to put in a small toy or book. A nice plus, but it's not an essential feature.
To be safe when using a

single

bed rail, you would need to place the bed against at wall. The "open" side is then protected by the rail itself as in the picture to the right.
No wall to place the bed against?
No worries, there are affordable double bumper arrangements as in the picture to the left. Or a double rail, like the
Regalo Double Sided Bed Rail
(picture right above).
See
When and how to transition from crib to bed
for more about helping your toddler move to his big bed ...
Choosing a safety bed rail for co-sleeping
In line with the
co-sleeping safety guidelines
, a safety bed rail helps prevent your baby from rolling off when co sleeping in your bed. Place the rail on mom's side of the bed: baby lies between you and the rail.
Please be careful, it is very (!) important to have
no gap at all
between the mattress and the rail. Unfortunately that is often the case with the classical fold-down toddler bed rails.
To avoid this, you need a "top of mattress attachment" bed rail that has no gap at all. I found the
Safety 1st Secure Top
(as in the picture at the very top of this page) that does exactly this.
Another great option is a bumper arrangement of this type:
Humanity Family Bed Co Sleeping Pad