Why Use + How To Choose a Sleep Sack
Why is it that so many babies suddenly start
sleeping through the night
when they first wear a baby sleeping bag or a wearable blanket?
Simple: a well-fitting baby sleep sack ensures the right temperature, a snug cosy feeling and safety all night long, from newborn onwards.
Let's have a look at why and how to choose below.
"I couldn't imagine NOT using a sleeping bag with my babies ..."
Do you also love the look of a classically made up bed with a crisp sheet and a cute baby blanket? But does your baby kick it loose as soon as she can and then wake up, being cold? Or slide right down, leaving you terrified she might not be able to breathe?
Or maybe you are cosleeping, but do not want baby under your own blanket or duvet as that might get too hot for her, or for fear her head might get covered.
A baby sleeping bag is SO convenient, and although I always say there is no magic, so many moms report improved sleep once they started using it.
My top reasons for using a sleeping bag:
Your little one fits in snuggly, giving her that snug cosy feeling, perfect to help her doze off and sleep well.
She is always comfortable, not bothered by undone sheets and blankets.
It keeps the temperature just right, through the night. Being too hot or too cold is a top reason for young babies to wake in the night, or early in the morning. The right temperature is also crucial in the battle in preventing SIDS.
When taking her out of the crib for night feedings or soothing, no need to undo the sleeping bag. She stays right in, keeping her warm which avoids her waking up completely.
While teaching your baby how to self soothe, put her in the wearable blanket when helping her doze off. You can then put her right down in the crib (half) asleep, no fuss tucking her in (which is bound to startle her and wake her up completely).
How to choose?
As always, it is
safety first
. So your baby sleeping bag should be:
The

right size

(baby would get covered when in in an oversized sleep sack!). See the toddler sleeping bag page if your child is reaching toddler age.
The

right temperature

(don't use a warm winter sleeping bag in summer: overheating is very dangerous!).
And once you got the safety part right, why not choose a beautiful cute sleep sack ... you will definitely be using it a lot, so why not go for that cute little pink one, or the Winnie The Pooh one that matches the nursery? It will make bedtime all the more fun for your baby too.
My Top 2 recommendations: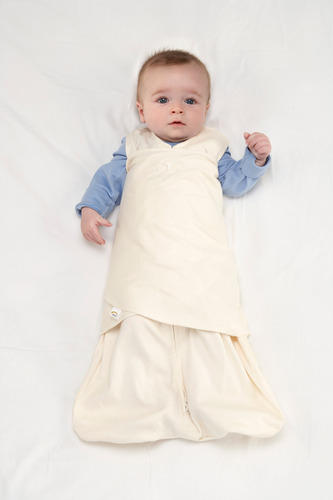 For a top quality and safety-guaranteed sleeping bag, check out the ones from Halo Innovations on Amazon (good prices by the way).

Their
Halo Sleepsack Swaddle
(picture to the right) gives a great and flexible combination of sleeping bag and swaddle.
Great quality vs price balance!
The Baby Deedee Sleep Nest Baby Sleeping Bag (picture + 20% discount info below) is very cozy and a bit heavier which can be a great help if you need to keep your baby, when small, from rolling onto her tummy while asleep.

Pay special attention to select the right size (0-6, 6-12 or 6-18 months).
NEW!
Baby DeeDee is currently offering Baby Sleep Advice visitors a lovely
20% off
any order from their website ... Simple click through to their site to get
20% off any Baby DeeDee Sleep Sack
like the Sleep Nest, Sleep Kicker or the gorgeously light Sleep Nest Lite for summer ...