Effective Teething Remedies: Natural, homemade or medical
Effective teething remedies soothe baby teething pain fast and also have a lasting effect.
That's what you need to keep her sleeping well at night. There are a couple of home made remedies that are really good. They are not expensive at all and often more reliable (and lasting) than the
medical
ones. Sometimes a medical solution like teething gel/granules or plain Tylenol can be necessary to complement.
Let's examine how and when to use each category: natural or homemade ones which involve no pills or syrup at all, and then medical remedies.
As a general rule, I always recommend to try natural solutions first. Do them correctly and consistently for lasting results. Then if still necessary, complement with a medical solution. Speak to your doctor and/or pharmacist before trying a medical solution.
Natural and homemade teething remedies
Non-medical teething pain relief methods work through massaging the gums or by cooling - which un-swells and effectively reduces the uncomfortable sensation.
Home made remedies refers to something you can do with things you usually have around at home.
Effective teething pain relief methods you can use:
Gum massage with a finger toothbrush


Gently massage your baby's gums with a soft fingertip baby toothbrush/gum massager.

They are like plastic little fingers and specifically designed to massage the gums.

Most babies really enjoy this massage, especially because it really eases the pain.

Once the first teeth have arrived, the finger toothbrush is also great to brush.


A plain teething ring, or bite ring
A baby with teeth coming up has the urge to chew or bite all the time. That is because it really helps to soothe the pain. It works exactly like the gum massage - only it is 'self-service'.
In principle, any sturdy plastic toy - the
Sophie the Giraffe Teether
is a classic big hit - can do but please mind the following
safety guidelines
:
A safe chewing toy must not contain any toxic substances that may be released when biting or chewing. No small parts that can be torn or bitten off.
Carefully read the manufacturer's instructions regarding washing and sterilizing. Do not sterilize the ring if not explicitly mentioned. Do not use a ribbon or other to attach the ring to baby's clothes to avoid baby getting entangled.
A cold cloth
Use a cold thin washing cloth either inside baby's mouth to massage the gums or place it on the cheek. Both of these methods soothe the pain.

To cool the washing cloth, wring it out in cold running water or put it in the refrigerator for a while. Alternatively, tightly (!) wrap an ice cube in a thin washing cloth.

In all cases, remember to wash the cloth thoroughly after each use.

Cold food
If your baby has the appropriate age, cold foods can be a good remedies too. The numbing effect helps for the pain, and you can make healthy treats that baby will love!

You can try cooling any type of fruit or veg that your baby eats and likes: it can be banana, pear, apple, carrot, etc. or also a chilled fruit mash.

If your little one can safely lick a Popsicle, you can make a healthy one yourself with freshly squeezed juice in small Popsicle moulds. Or put a little Popsicle stick in her favorite baby yogurt, then freeze ...
A cold chewing ring

A cold teething ring can be any chewing toy that you cool in the refrigerator.
However, some are actually a liquid filled cold-pack type and remain cold for longer, like the
Nuby Icybite Teething Keys
.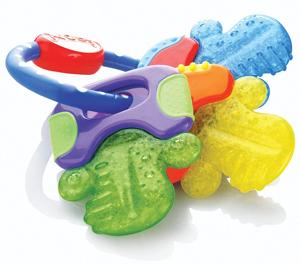 The cold has a numbing effect and therefore helps soothe the pain.

The safety guidelines are as above but be extra careful about the liquid filled part:

Unless the manufacturer explicitly mentions freezing, do not freeze, only refrigerate.
Freezing the ring could cause cracks and make the liquid burst.

And even it is allowed, straight from the freezer is often too cold for baby, so refrigerating is usually best anyway.
Frequently check for tiny cracks as you do not want the liquid to spill. No too much worries though, dedicated cold rings are made of very thick plastic.
But don't be put off by these simple precautions, these cooled rings are very efficient!! And fun ...
Medical remedies
Evidently, avoid medical teething remedies if you can. But if none of the above natural remedies sufficiently relieve, don't hesitate to contact your doctor or pharmacist. They can tell you what you can safely use for your baby.
Gel

A good teething gel has a double action: it combines a local anesthetic with an antiseptic to both numb and disinfect.

Teething gel is not suited for all babies - that's why you need to be careful and check with a health adviser.

But if your baby can have it, and reacts well to it, the gel can be very effective.


Painkillers

Always consult your doctor for safe use of painkiller such as calpol or ibuprofen. They can help soothe the worst of teething pains if used sporadically and in a well-timed manner.

Please beware of homepoathic tablets and gels, there is an
FDA warning
against them due a risk of harmful side effects.
---
Even if one or several of all these teething remedies may help relieve your child's pain, there is still a good chance that some discomfort remains. And that her sleep will be disrupted for a while ...
The golden rule is to relieve the pain maximally and at the same time keep up the good habits of regularity, bedtime routine, ... which will keep you on track as closely as possible. More details on
how to keep sleep at its best when teeth are cutting
.
Or would it be ...?