How my Hug A Bub Saved Many Days ... and Nights
My top reason for loving my Hug A Bub wrap sling so much?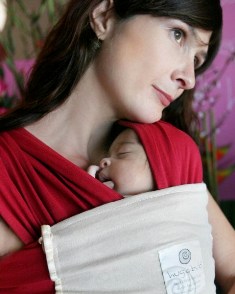 Of course baby wearing from newborn means no-fuss sleep, close contact and hands free soothing as all baby carrier reviews say. But mainly ...
... my
Hug A Bub
also let me carry my baby for hours
without any pain
or strain in my poor back and shoulders. And in my case, that means a lot.
And it's not only good for my back: the Hug A Bub also keeps
baby in a safe position
.
I learned that the wide stretchy cloth and the wrapping technique support her correctly and don't compress her spine (the typical problem of many baby carriers).
It's safe to carry your newborn baby from day 1 (!) - even a premature baby. And it's strong enough so I could still carry my daughter when she was well into "terrible twos" ... and still be comfortable.
So it's
safe and comfy
for both me and my baby, what more could I ask for?
How Do I Look? and How Do I Wrap? ...
Well, I did wonder about two more things at first: how will I look with a long piece of cloth around me? and: how on earth will I wrap that whole thing around me?
Looking good
was easy: there's a lot of different colour combinations, some soft, some bright, but always stylish. And I think it's important to have that choice: this is a piece of cloth that will quickly become part of your outfit, so it might as well fit nicely with it.
My main concern, after reading many baby carrier reviews: how to wrap this loooong piece of cloth into a safe place for my baby?
Well yes, it took me 1 hilarious (!) session in front of the mirror but then I was fine.
A few more practice moments and I was soon able to
tie my Hug A Bub very quickly
- quite important in emergency situations when my daughter needed instant soothing ... ;)
I'm not that handy really, but the
clear and simple instruction videos
make it very doable, even for me ...
A Lifesaver
Wrapping up, my Hug A Bub is still my favourite baby accessory ever. And it saved so many days not just by helping me to soothe my baby girl quickly and easily.
But it also worked so well to .........
get her into a reasonable nap schedule
and to get through phases of baby separation anxiety
and to get things done around the house even if she needed my attention
and to go out for lovely walks without stroller-struggle, hands free
and to go shopping, hopping on-and-off metros and buses (SO much more relaxed than when trying to do that with the stroller !!!)
Visit hugabub.com to
shop for your own gorgeous Hug a Bub wrap carrier
aka lifesaver ...