Baby wearing benefits and Hug-a-Bub wrap slings

Hug-a-Bub®
wrap slings take this a step further: this brand has proven to achieve all benefits in a way other carriers cannot: effective, safe and comfortable.
Newborn and Hug-a-Bub
Your
newborn feels safe and secure
thanks to Hug a Bub's stretchy soft fabric and its unique wrap system. These make the Hug-a-Bub THE best place to be, after the womb, for a newborn baby: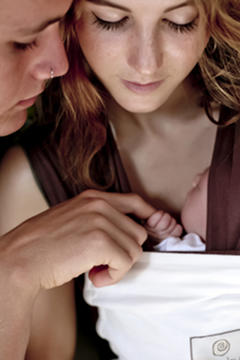 Photo courtesy by Hug a Bub Australia
Baby is kept warm without overheating, thanks to mom's body heat combined with Hug a Bub's ideal breathing fabric.
Baby is kept in a flexible swaddle, her head resting near the familiar sounds of mom's heartbeat and voice (through her chest cavity).

Notice how high up the baby in the picture is? Th
a
t is the place to be, and it's one of the aspects that make Hug-a-Bub so unique.
Baby feels

contained

thanks to being wrapped closely (but not too tightly). This is an often overlooked need for feeling safe and secure.

When
uncontained
a newborn baby has many "startle reflexes": a response that feels like falling. This reflex occurs when baby does not feel the familiar, reassuring boundaries she was used to.
Less stress hormones are released when baby feels safe and secure in this way. Less stress means less stress-related problems like
colic
,
acid reflux
and
excessive crying
.
Relaxed and content babies also
sleep
better than their unhappy, stressed peers.
That is exactly why these slings are my personal number 1 top recommendation.
Baby, toddler and Hug-a-Bub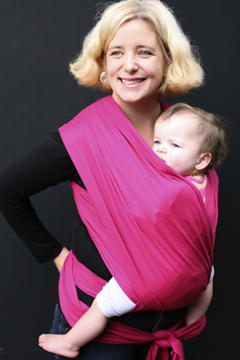 Photo courtesy by Hug a Bub Australia
A growing up
baby or toddler
still needs the safety and security as when just born.
Happy and relaxed, baby
sleeps better
,
suffers less
from colic, reflux, crying and is less prone to teething pain and other typical baby comforts.
Continued close bonding with mom and dad becomes even more important.
Being able to explore the world, to be a real part of it, to meet people and things, ... while safely carried close to mom or dad is THE
confident
path towards
independence
.
One of many practical advantages: carried correctly in a good wrap sling, you can safely have baby
nap
for a prolonged time in the sling. No risk of mal-development for the spine.
Most carriers do not offer the comfort and safety to be able to do this so please be careful.
You and Hug-a-Bub
For you, baby wearing a happy and relaxed baby means: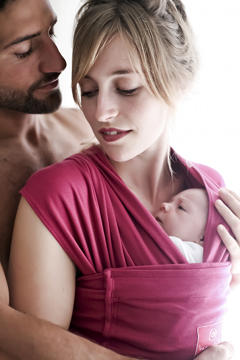 Photo courtesy by Hug a Bub Australia
Newborn or bigger baby, carrying your baby close has a positive influence on baby and yourself. Regularly carried babies are most content overall, have improved bonding with parents, and are shown to grow up to be independent and confident children.
[1]
The risk of spoiling by carrying too much is none to worry about. As long as you do it consciously and offer plenty of crib and play mat opportunities as baby grows, you are fine.
Shop Hug-a-Bub
You can now easily
buy your Hug a Bub online
from the mother company. They ship worldwide for you and offer great service, and the best choice.
Happy baby wearing!
[1]
Infant-Mother Attachment: The Origins and Developmental Significance of Individual Differences in Strange Situation Behavior.
Lamb, M. E., Thompson, W., Gardner & Charnov, E. L. (1985). Hillside, N.J.: Lawrence Erlbaum.