How to Help your Toddler Transition to a Big Bed
Author: Heidi Holvoet, PhD
To help your baby move from the crib to a bigger bed, choosing a good moment is an important first step. Once you have figured out the best
toddler transition timing
, here's how to make the move itself a good experience.
We discuss the most successful tips and techniques to prepare yourselves and the most useful equipment to set up the big bed, right below.
Prepare the smoothest toddler transition ... TOGETHER

At the same time, no need to make it a huge
issue
either. Talk about it casually but regularly. Make these discussions pleasant and fun. Tell your child you are so proud he (she) is a big boy (girl) now, ... A simple, fun but very good board book that can help here is our friend Elmo's
Big Enough for a Bed
.
The same night light, the same level of darkness throughout the night, the same
bedtime routine
, no changes in sleep schedule, ... This avoids resistance and confusion by too many changes as well as keeps her sleep patterns unchanged.
Consider a

big kid

responsibility

, such as being allowed to have a sip of water on his own once you left the room. Explain this to her and be clear about how much and when she can drink. This helps build confidence and is simply a good extra incentive.

Once in the big bed ...
The main issue you may have with this new situation is the increased freedom it gives to your little one at night ...
What if she comes out of bed in the middle of the night?
Being in the big bed also means that your toddler can come out of bed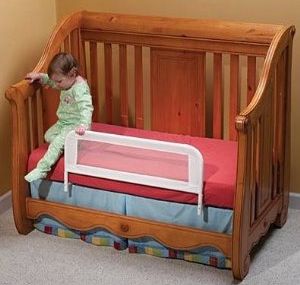 quite easily now. This may be one of the first toddler
restrictions
or
rules
that you will agree upon with your toddler.
First of all, decide for yourself what you want. Some parents want their children to come out of bed to warn them if she needs help. Others want them to stay in bed no matter, and then call out it necessary.
Either way - or any in between - explain this to your child. It may take time before she actually remembers and does it well. But by consistently explaining, taking her back to the room immediately each time, ... you will make progress.
Also,
don't wake up a sleeping dog
: Don't suggest to your baby what she probably wasn't planning ... if you often remind her NOT to come out of bed, that may be exactly what she is going to try!
Not mentioning it at all may be your best bet as a start. And then if she does come out of bed, consistently explain what you want ...
Remember to praise and applaud at each good step during the transition: settling, staying in bed, taking a sip of water, ... It may be worth a special incentive. Use a
sticker chart
to help encourage further.
Set up the best toddler bed ever ...

This is the easy part of the toddler transition. Unless you had a convertible crib, choose either a solid toddler bed or go straight to a full-size regular bed. Both options are fine. If you get a good real big bed right away, it can last all through childhood.
In either case, I strongly recommend you
use a bed rail
. It is crucial to keep your child from falling out of bed. A nightly fall can be quite painful and harmful, not to mention traumatizing.
Using bed rail protection also creates a more cozy feel which your new big-bed-sleeper will appreciate, and therefore help her sleep more.
You can consider to start using a duvet or blankets now but I still advise a
sleeping bag
because it actually helps your toddler transition.
Especially if she had one before: the sleeping bag will be familiar, reducing the amount of changes going on right now. But also, the sleep sack will keep her warm all night - avoiding unnecessary wake-ups when the duvet or blanket slips away.
Along with the toddler transition tips above, your toddler will come to love her new sleeping place and ... sleep better for it.