Soothe your Baby with a White Noise Machine
A white noise machine can be a good sleep aid, soothe baby colic, improve self soothing and keep baby asleep for longer stretches. Let's examine why that is and how to go about using background noise in the bedroom.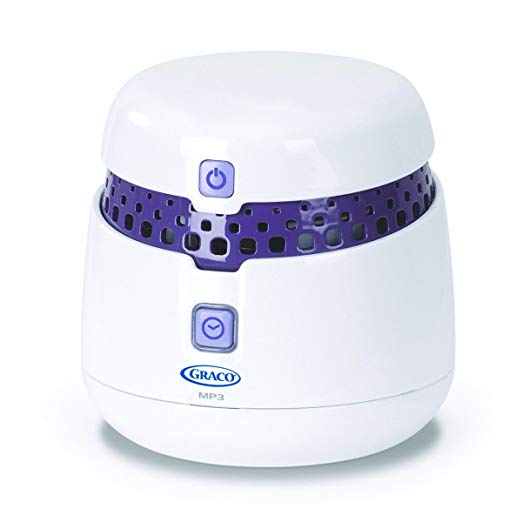 Technically, white noise is actually a specific sound signal. Plain background noise really ...
These days we often use the term white noise for any non-disturbing background sounds. It is very good at blocking out disturbing noises from in or around the house. That's exactly why it is so
good as a sleep aid
.
Magic? Not really.
Different distracting or exciting noises can make it hard for baby to relax and go to sleep. And one rough noise can easily wake her up ... So you will want to block those out. A gentle constant
white noise background
can do exactly that.
Many babies are so distracted and soothed by the constant comforting noise that they simply stop crying. That's why it is also such
a good baby colic soother
. Of course, you wil want to try and relieve as much as possible with other
specific colic soothing methods
too.
As with any sleep
accessory
, the noise is something you need to try before you'll know if it works for your baby or not. Try it for a week or two at least. If no results, give it a break and come back to it later.
Choosing your white noise machine
Try it when she's cranky and fussy one night and you are at your wits' end of how to comfort her.
It's the simple fact of having the same
noise
, constantly, which makes it so comforting and relaxing.
To avoid running around with your vacuum cleaner all night ... ;) you can go for a dedicated white noise maker. These are truly practical and much more pleasant.
Be sure to get one with a timer - one that you can choose to switch of after some time. Also, you may want yours to do more than just play white noise. A good machine will have options and many different sounds that you can experiment with. Your baby may prefer a gentle swishing sound, a soft nature sound or even some gentle lullaby music, ...
My choice, the
Graco Sweet Slumber Sound Machine
has all of these requirements. At the same time it doubles as a soft night light and an mp3 player so you can also play your own music, or voice.