Find your Free Baby Sling Pattern
Once you have a good baby sling pattern, you're all set to
make your own baby sling
.
Below is an overview of reviewed online resources that offer
free, quality sling patterns
. Most also include full instructions, drawings and pictures. Some also have recommendations regarding fabric, rings, ... I am personally amazed by the wonderful slings these ladies make!
Please always
use your own judgment
with each pattern to decide whether it will provide you with a baby sling that is safe and suitable for you and your baby. Do not ignore size and age recommendations. Check the different
types of baby slings
to help you choose.
The patterns below are usually provided by moms who have the goodness to share their knowledge and offer free help. Therefore please do give them appropriate
credit
and check their copyright notices should you decide to forward their pattern in any way.
Reviewed Baby Sling Pattern Resources
--- No longer online --- Stace's Pouch Sling: Hopefully we will soon have access to this interesting site again, explaining how to make a simple pouch sling, complete with diagrams, fabric recommendations, wearing instructions and FAQ!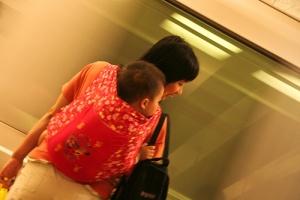 photo courtesy by clairity
Jan Andrea's Baby Craft Site
: A good listing of Jan Andrea's own and other's sling designs and baby carrying recommendations.
Beth's Mei Tai
(click the 'baby sling' category to find the right page): Beth's Mei Tai (BMT) page explains how to make an Asian Back Carrier aka Mei Tai. the design is for babies of 6 months and older. Has full instructions, pictures, drawings and material recommendations.
--- No longer online --- Emma's Asian Back Carrier: Sadly no longer online, Emma's article had beautiful pictures and clear instructions on how to make an Asian Back Carrier, and how to use it.
--- No longer online --- Sling Me Mommy: The Sling Me Mommy (SMM),
the carrier designed with a preemie in mind
, is perfect for kangaroo care for a premature baby. But you can keep using it well beyond those early preemie weeks.
Your baby carrier or sling pattern here?
Contact me
to suggest your link!