Types of Baby Slings and Baby Carriers
... and their best features to help your baby sleep
A crisp overview of all existing types of baby slings and carriers helps you find out which baby carrier is best for you. We check out the main features and highlight which best help your baby sleep.
So, how to choose a baby sling?
When looking for a sling, you may easily be overwhelmed with the numerous choices you find. Which one is best for you, depends on your baby and your preferences and situation.
There are basically
4 types of baby slings:
wraps, slings, ABCs and pre-shaped carriers.
A quick-start guide just to give you a first idea:
| | |
| --- | --- |
| Your baby and you ... | Choose a ... |
| A newborn or young baby and ready to invest minimal practice for best comfort? | wrap |
| A newborn or young baby and want to get started in no time? | sling |
| A young or growing-up baby and you prefer to carry on the back? | Asian Back Carrier |
| A growing-up baby and you don't mind a bulkier carrier? | pre-shaped carrier |
Wraps
photo courtesy by N.R.
A wrap sling is a long piece of cloth that you
wrap
around you
over both shoulders
and knot cleverly to make a comfortable and tight baby
seat
with perfect support.
Baby's posture in a wrap is
safe and supportive
and
promotes good muscle development
.
A baby wrap carrier is
the most ergonomical of all types of baby slings
: you carry the weight on both shoulders, and if desired, partly on your hips too, so you do not put unwanted pressure anywhere.
A wrap is definitely the best choice if you have any neck or shoulder concern.
I specifically recommend
Hug A Bub wrap slings
because of their safety for your baby and because they leave your back, neck & shoulders stress and strain-free. See my
Hug A Bub review
for more on my personal experience.
It can flexibly be used in the front, on the hip or on the back with baby lying down or sitting up. Baby can face you or
the world
accessory on her age.
Speaking of age, you can use some of the good-quality well-wrapped wraps
from DAY 1
and enjoy the closest ever first days with your newborn baby.
Please do not scare away from a wrap because it is supposedly complicated to wrap and tie. A good set of instructions - which comes with each good wrap - and a few practice sessions are all it takes.
Needless to say that the wrap is perfect
to help baby sleep
too. As discussed in
baby slings and sleep
you will be carrying baby at nap or other sleep times around the house and during walks. This is possible with a wrap as it is
ergonomical for you and safe for your baby
.
Slings
A sling is a piece of cloth worn
over one shoulder
. Different
props
are used to create the hammock-like baby
seat
: one or more rings in a
ring sling
or ring carrier, knots in a
knotted sling
and a pre-sewn shape in a
pouch sling
.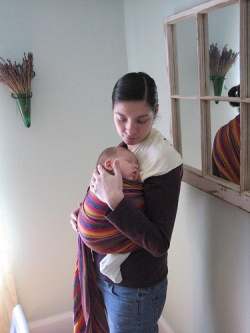 photo courtesy by amcdawes
There are padded versions of these slings too which can offer extra support but this is not absolutely necessary for a good quality sling.
Because a sling of this type only hangs from one shoulder it is a bit less ergonomical than the wrap. However, if the sling is of good quality and has a broad supportive shoulder piece, and you do not have specific shoulder or neck problems, this is
still a most reasonable ergonomical option
.
Baby is safe and well supported in a good quality sling.
The
huge advantage
of a ring, knotted or pouch sling is the ease of use. You
throw
it on you and you are ready to put baby in straight away. That makes it
a great beginner's
baby carrier.
Regarding
having your baby sleep in the sling
: it may be a bit more challenging to carry baby for long naps and walks in a sling, compared to a wrap. But that is mainly if you have rather weak shoulder or neck muscles.
But since you can literally have your baby
in the sling within seconds
, it can be a true lifesaver
to calm baby down quickly when she is fussy or very tired
.
Asian Back Carriers (ABC) or Mei Tai
An ABC or Mei Tai is a square piece of cloth with cloth stretches and/or straps at each corner to be wrapped and knotted/fixed around you to create baby's
seat
.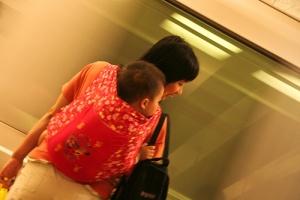 photo courtesy by clairity
In spite of its name, this type of carrier is pretty flexible: you can carry your baby
on the back but also in the front or on your hip
.
Some ABC can safely be used for newborns as well but not all so it is best to always check before you buy.
Having your baby on the back can be quite comfortable if you are doing things around the house. Also it can be a good
light
option for both of you when it is hot.
Carrying your baby on your back can also ease the pressure on your breasts, something breastfeeding moms can definitely appreciate.
A good-quality ABC can be ergonomical and therefore has the same advantages as a wrap when it comes to
helping your baby sleep
.
It can be a little bit less comfortable though for a sleeping baby compared to a proper wrap but ABCs are definitely a good alternative amongst other types of baby slings.
Pre-shaped carriers
photo courtesy by ewen and donabel
A pre-shaped front or back carrier has a fixed
seat
for baby made of padded material, that you usually buckle around you.
There are exceptions, but in general these carriers are
not suited for newborns
and should only be used from six weeks or even two or six months old.
They can be great for older babies and children as they offer good support and carrying comfort in spite of the increasing weight.
A pre-shaped carrier can be a bit bulky to carry around. This in contrast with the plain cloth of wraps, slings and ABCs which you can easily stow away in your bag.
This carrying comfort is
a plus with regards to sleep
: your child will be able to take good naps during longer walks or going about the house.
Always make sure though that your baby is comfortable and safe.
In all, each of these types of
baby slings can be a great help with sleeping
. Just adapt your choice according to your baby's age and your own needs.
In my opinion the perfect sling situation: have
a good wrap for the longer stretches
and then
a sling or ABC for the shorter and urgent ones
.
Choose a design and colour you like too as it may quickly become part of your outfit ...