Make Your Own Baby Sling
Make your own baby sling and treat yourself to a beautiful homemade sling, that suits you perfectly. It is not too difficult and, using a free baby sling pattern, makes an inexpensive option. Of course always check the safety guidelines below to carry your baby safely.
It is quite doable to make your own baby sling.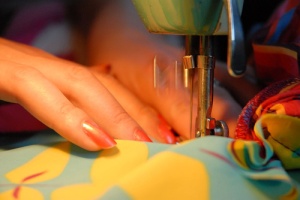 photo courtesy by tsuacctnt
If you can sew a bit, and have some patience, you're off to a great start.
What you need
: a
baby sling pattern
, a piece of cloth, thread. If you are making a ring sling you will need one or more rings too.
If you haven't decided which one will be best for you, discover the different
types of baby slings
. Then find the (free) baby sling pattern of your choice to get started.
Advantages of making your own baby sling
The cost

: unless you buy a very expensive fabric, you can make a quality sling for a better price than when buying.
The look

: you choose the design, colour and fabric to make your own baby sling that suits you best. Many moms wear their slings quite often so it actually becomes a fashion accessory so you might just make sure it fits your outfits.
Customised

: you can customise your sling and add little extra's like a small toy pocket or a string loop for a pacifier.
The reward

: unless you don't like crafting at all, what more rewarding than carrying your baby in your own homemade sling?
Homemade baby sling safety guidelines
As with any sling or baby carrier, it is very important to
make sure the sling is safe for your baby and for you
. Baby must be well tucked without danger of falling out or getting stuck in an unhealthy position. For you the sling must ergonomical so that it does not harm you back, neck or shoulders.
Safety guidelines:
Your size

: the sling should be your size: not too small and not too large to ensure a well-fitting baby 'seat' for your baby.
Baby's size

: the size and type of the sling must fit baby well. Check the table here to pick the right sling type for your baby's size too.
Well wrapped

: once your sling is finished, make sure you always wrap or knot it carefully, following the instructions for your specific type of sling.
Rings

: the ring(s) used in a ring sling must be safely attached. They must also be the right quality - designed to carry heavy loads - and made specifically for use in a sling.
Check the overview of
free baby sleep pattern resources
online to get started.
---
To make your own baby sling can be a
fun and rewarding
and gives you
all the benefits of baby wearing
as well as great help with guiding your baby to sleep, using
the Baby Sling Trick
...