Are you carrying baby in this safe pain-free way? Hug-A-Bub
FREE shipping worldwide - Sharpest prices - Official Retailer

Comfortable, safe and stylish: the Hug A Bub sling is easy to wrap and lets you enjoy baby close to you, without
feeling the weight
...
With a Hug-a-Bub baby sling: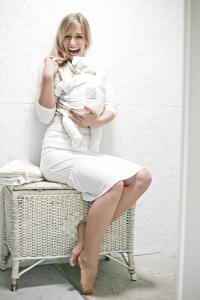 Photo courtesy by Hug a Bub Australia
Baby is secure and safe

: the uniquely clever stretchy fabric supports baby in a safe position that promotes healthy vertebrae development. Even preemies from day 1 ...

Yummy mummy style

: the trendy colors and prints are a plus to your outfit - it's a sling that turns heads!

Which one is
your

favorite Hug a Bub?

There are two types of Hug A Bub wrap slings to choose from here: the

Organic

Hugabub the

Pocketless

.

The

Organic

one is made out of gorgeous organic material - certified organic cotton. It has all the sturdiness and stretchy qualities that make Hug-a-Bub so unique for your carrying comfort. It has a built-in "pocket" which is really handy (and I speak from experience ... "

o now where did I put that again ...

" ;) ) to put in a small soft toy, baby's hat, ... while on the go. And it serves as a built-in stow away bag for the sling.

The

Pocketless

is made of equally high-quality fabric - just not organic - and does not have the pocket.

There are 2 different sizes: choose

Huggable

size unless you usually wear xxl clothing. In that case, choose

Very Huggable

.

If you and your partner both plan on wearing it, and one of you is

huggable

, the other

very huggable

: go for

huggable

(and then simply wrap one less round when tying).
Placing your order is easy

In order to guarantee the sharpest prices on the market, I no longer accept automated orders. Instead, you pre-order below to
get notified of the best price of the day
after which you have the choice to go ahead with the order or not.
Order procedure:
Step 1.
Choose your favorite Hug A Bub® below
.
Step 2.
To pre-order, i.e. request the current best price,
submit the form below
.
Step 3.
Within 24 hours (working day) you will receive the exact pricing of your order by e-mail. That will be for the Hug A Bub only, since shipping is always free. It will include an optional payment invitation.
Step 4.
You decide whether to go ahead with the order - in which case you submit payment (credit/debit card, PayPal, check or money order) or to cancel it - in which case you don't have to do anything.
The Pocketless
Made of strong natural fabric in a single color, without pocket.

| | |
| --- | --- |
| Pistachio | Byron Bay Blue |
The Organic
Made of a softer and slightly thicker, certified Organic cotton, with pocket.



Black / Black
Organic




Raspberry / Raspberry
Organic




Pistachio / Pistachio
Organic




Chocolate / Nougat
Organic
Pre-order form
Use this form to request the best current price for your chosen Hug A Bub.

Please do read the
conditions and refunds policy
before (pre-)ordering.
Any question or concern? Don't hesitate to
contact me
using the pre-order form above.
Your sling comes nicely wrapped, with clear
step-by-step instructions
, including a DVD showing you how the wrapping technique for these different positions:
Heart To Heart
: my personal favorite: your baby faces you, head securely tucked into the wrap. This is a dream position for kangaroo care and soothing an upset baby. And of course it is thE top position to help her sleep. (up to 18 months)


Peapod
: baby lies horizontally: use this position for sleeping preemies and up to 4 month olds and if you like to breastfeed hands-free.


On The Go
: from about 4 to 6 months onwards, babies love this position. They can explore all around them, from a very secure spot with a view ...

Koala Cuddle
: this is a 'bigger baby' version of the Heart To Heart position. Here, your child has his upper body free. It's good for bigger babies (up to 3 year olds). Very handy feature: when they fall asleep, you can still tuck their head back in.