Give the Gift of Sleep: the Sleepy Baby Gift Card
With the
Sleepy Baby Gift Card
you give a friend or loved one (or yourself!) a unique and unusual baby gift: a private online counseling session for their newborn baby, toddler or young child.
"My best baby shower
gift idea ever!"

That session consists of private e-mail conversations between the receiver and yours truly,
Heidi Holvoet
.
Perfect as a holiday gift, baptism or baby shower gift or any moment when you want to help support a sleepy mom or dad.
It's easy and secure, no wait time, no shipping. The receiver activates the personalized card when she or he wants and gets into private e-mail communication with me from then on.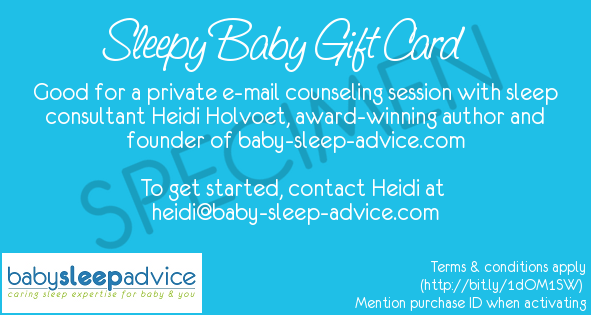 Why the Sleepy Baby Gift Card?
Imagine giving a sleep deprived parent what they crave most: more sleep.
Sleep is by far the Number 1 top concern among parents in the first year. They spend many sleepless or broken nights and sleep deprivation quickly takes its toll.
Sadly, many parents do not get to enjoy those first years, and only keep a
foggy
memory ... Moreover, with poor sleep habits an important cause of many childhood problems like obesity and depression,
good sleep today is important for each child's future
.
With the
right advice and kind support
, child and parent's
sleep can be improved so much
... making those precious years all the more enjoyable.
Offer your caring baby gift card to
any parent or carer
to:
Help improve their baby or child's troublesome sleep
or
Install good sleep habits and avoid troubled sleep in the future
Think of:
Expecting parents - what better maternity gift than the prospect of being guided in sleep matters ...
Parents with newborn babies - how to get through those first daunting weeks
Young babies - set good sleep habits for life
Toddlers - avoid tantrums at bedtime for a good night's sleep for the whole family
Young children - finding good sleep also when growing up in today's whirling world
What do I do?
As soon as the receiver gets in touch with me, we assess their situation: how is their baby doing, how does she sleep, what is troubling her sleep, ... and how do the parents feel about all this. Or, what is their wish for the coming months, regarding sleep?
After a first assessment we will work on
improving punctual sleep problems
(poor sleep due to teething, reflux troubles, separation anxiety, ...) where necessary and
build a lasting set of good sleep habits
.
My advice is
hands-on and down-to-earth
, always based on the idea that every baby and every family is unique. This results in a very personal and effective approach.
All of this goes through e-mail exchanged between the parents and
me
, Heidi, personally.
How does it work & how much does it cost?
Easy: the Sleepy Baby Gift Card is an
e-mail gift voucher
which you offer to a friend or family member. One counseling session - consisting of a primary e-mail exchange and follow-ups as necessary - costs
$159.99
.
For you:
Purchase the Sleepy Baby Gift Card by clicking the Buy Now button below. You can use a credit card or your PayPal account. Once confirmed, you will receive a confirmation e-mail of your payment, containing a unique payment ID. And you'll be able to
instantly download the gift card
.
All there's left for you to do is to
print it out
, add the unique PayPal ID, gift-wrap it and you're all set to offer your unique gift! You can also choose to
send it by e-mail
when you will not meet each other.
For the receiver
: at any date (within 6 months) they wish, they e-mail me with a mention of the unique purchase ID you gave them. Then I get back in touch with them and we're ready to go.
Questions? Concerns? Don't hesitate to
contact me
, I will be happy to assist!
Order your Sleepy Baby Gift Card
Order your gift card simply by clicking the button below. Use your preferred debit or credit card or else your PayPal account to pay. Do not pay unless you agree to these
terms and conditions
.
Right upon payment confirmation, you will receive the gift card by e-mail. You can choose to print it out to offer or send it in a personal gift e-mail to the receiver. Just remember to write on it or send along your PayPal payment ID.
Sorry - currently unavailable. Apologies for any inconvenience caused.
Contact Heidi
with any question
Testimonials