Silja's Sleep Diary: five and a half months old
Written by Taru, Silja's mom
At five and a half months old Silja's sleeping skills suddenly seem a bit lost. Her parents find themselves cosleeping out of necessity. Traveling with baby and comfortable sleep appears to be an odd combination too ...
Five and a half months old now ... and I can just about remember the blissful days when Silja was
five months old
. Since then things went rather pear-shaped and stayed there for a good while.
Right after enjoying a lovely spring day in Regent's Park,
the following night was the craziest yet
.
She was up at midnight, then at one am, again at three am, and after that I lost count.
When the day dawned we were all sprawled comatose in a pile across the big bed.
Silja had probably helped herself to my milk several times without me even waking up.
Unexpected cosleeping
I'm really disappointed as although I was
cosleeping
with my older children for most of their first years, and although cuddling up to a baby feels delicious when you're tired, I really don't sleep properly if I have a baby right next to me.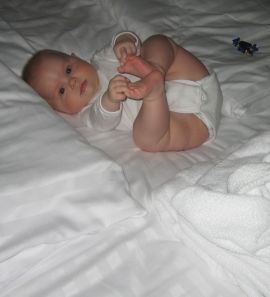 I was hoping we might be able to sleep mostly in our own beds with Silja. The following night was better already, although the end result was pretty much the same.
This went on for about a week I think - my head got rather fuzzy towards the end of the week - but then gradually settled to a bedtime around 8.30pm, a feed at 3am, and something of a wrestling match from 5 to 7am.
It's not perfect but at least I know what to expect. Maybe this is the famous 4-month dip my friend told me about, and we're just a bit slow on the uptake.
Naptimes are still around school drop-off and pick-up, and sometimes she takes a little catnap at noon, but they all seem rather short to me - she may just sleep for an hour each way.
Traveling and baby sleep ...
And as if things were not complicated enough, we found that we had to
travel
home to Finland quite suddenly over the Easter holidays.
To be honest I didn't manage to keep any sort of track of Silja's sleep during that week. We traveled late at night and very early in the morning, stayed home and at two different hotels, and all I can coherently remember is that I just hate
hotel cots
.
I'm sure they work well to restrain two-year-olds, but the travel cots most hotels have are just not appropriate for babies. I couldn't even reach the bottom of those cots so Silja had to free-fall down the last couple of inches.
Not surprisingly, she spent a maximum of two hours in each cot and the rest of the night next to me. And one of these hotels had a pillow menu and our room came with a private sauna, so I'm sure investing in one proper baby cot would not bankrupt them.
But that's enough ranting. Time to feed, and then, with some luck, a little nap for everyone.