Silja's Sleep Diary: five months old
Written by Taru, Silja's mom
Five months old in a couple of days and Silja is sleeping well at night while a bit unpredictable with her nap schedule. She is very busy discovering the world around her and practicing her motor skills ...
Silja will be 5 months old this Sunday, quite a shock when I realised that. But today is a glorious spring day and I started the day with a takeaway latte on my favourite secret bench at my favourite secret garden in Regent's Park.
It's finally warm enough to feed Silja outdoors without risking instant mastitis, so we're outdoors as much as possible today. I feel incredibly lucky to have this life, being able to enjoy my baby on a lovely spring day in this gorgeous park.
Silja enjoyed her 'latte' as well and went back to sleep in her pram, and I felt pretty lucky about that, too. In the last couple of weeks I've ended up carrying her home as she's now determined not to go into the pram if she's not ready to fall asleep.
She does usually sleep in the pram when I walk the older kids to school in the morning, and again on the way there in the afternoons, however these
naps are quite short
and on the way home she might be up for some action.
I keep my Baby Bjorn baby carrier stashed in the basket underneath as she seems to enjoy being carried in it facing outwards now.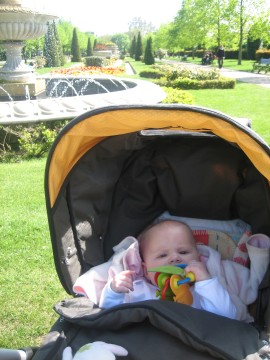 Silja's been rather busy recently. She had a bit of a
baby cold
, then did lots of drooling (but no teeth to show for it but I guess five months old is a bit early), and is now rolling over compulsively – although she keeps getting her arms stuck underneath and then she's not happy.
She's also enjoying her older siblings a lot, and loves cuddling with all of us in the evening when we read bedtime stories. She especially loves her big sister's book with a big picture of a grinning dinosaur and laughs out loud when she sees it.
She still
sleeps very well at night
, from about 9 pm, but very lightly for the first hour or two and rather frustratingly I often manage to wake her up when getting into bed myself.
And she's still waving her arms about – although not as much as she used to – and easily wakes herself up, especially if I've forgotten to cut her nails. They are really sharp and I've got to cut them every three days or so or it'll be scratches in the strangest of places.
Then she's ready for a feed at around 3 am, and recently she's started waking up a bit earlier than before. Today she was up again at 5.30 am, but then went back to sleep until 7 am.
I'm not quite sure if this counts as a second night feed, but it may well be that she's getting bigger and hungrier now.
Her
nap schedule may also be changing
. I said already that her usual morning and afternoon naps are getting shorter, but on the other hand she had an extra 2-hour nap yesterday around lunchtime.
I wasn't planning on putting her to sleep but she was just tired enough to fall asleep in my arms. This morning she actually had a rather long nap, so will be interesting to see how the rest of the day goes.
But now I have to go: she's rolled herself into a bundle again and really needs to be rescued – just to do the same again in ten seconds. You've just got to love a five months old baby!