Silja's Sleep Diary: one week old
Written by Taru, Silja's mom
Meeting newborn Silja at one week old ... The cutest little baby girl loves cuddling up for feeding and discovers her co-sleeper.
Now one week old, our baby daughter Silja was born on the 22nd of October at 4.14 am, two days before her due date. She weighed 3.2kg which is quite a bit less than our two older children did at birth, and was induced a bit early because of concerns about placental function.
This turned out to be a good choice as the placenta was indeed a bit past its "sell by date" at delivery. I had to be on a syntocinon drip and linked to monitors during labour, so again I didn't get to try the birthing pool that I've always wanted to try. Having struggled with pushing out big babies in the past this birth was, if not exactly enjoyable, at least overall a positive experience.
And we're delighted with the end product!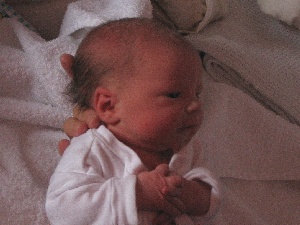 Once we got to our room at the hospital we all crashed out for a couple of hours, and Silja slept most of the day, just feeding twice.
I was a bit worried that she was sleeping too much and not feeding enough, but of course this is normal with a newborn baby. Seems that although I've had two kids before, I've forgotten most of the detail – must be a survival mechanism.
The next day I worried that she was feeding all the time and not sleeping much. On the third day – this was Friday - we went home. This was really exciting but agonising as well.
Even though I have uncomplicated pregnancies and births I still feel like I've been hit by a truck afterwards. And although this time it was a smallish truck I felt pretty grim by the time we got home. The first night was not too bad, lots of feeding but I was able to nod off immediately once Silja's stopped feeding, and everyone got a good deal of sleep.
At the hospital I think I used the crib once, and most of the time just had Silja in our big bed next to me, enjoying having her skin to skin.
Now Silja is sleeping in our bedroom in a bedside cot - a co-sleeper. One side of the cot folds down underneath the cot, and the base can be adjusted to the same height as the mattress of our bed – so it's sort of a sidecar to the big bed.
I can easily reach her without getting out of bed myself, and I've got everything I need for night feeds on my bedside table – a big glass of water, Lansinoh cream for my poor sore nipples, lip salve and a pile of magazines and books to read.
I do leave my watch on the table as well but don't have an alarm clock and try not to look at the watch too often – I feel it's probably best not to know how often and at what time I've been up.
I do try to put her into her cot once I've fed her, and although she wasn't too keen to go there on the first night (I was worrying the cot might be too big and empty for a new baby and she might not settle there), she's now quite happy to stay there. She's always more that half asleep when she comes off the breast so she doesn't seem to mind too much where I put her.
It seems to help her sleep deeper and longer when she can't quite smell my milk. During the day she's napping a bit all over the place, depending where we are when she falls asleep.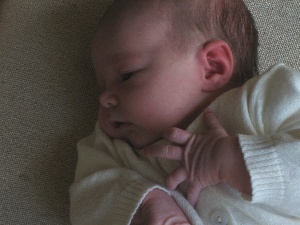 Saturday started out well but ended in tears. I started the day off with lots of energy but then overdid it (cooked lunch - didn't realise that this was just too much at this point) and was exhausted at the end of the day.
I was also getting really sore because I couldn't figure out how to get Silja latched on well. It probably didn't help that this was the day when my milk really came in, together with all the baby blues-inducing hormones.
The midwife visited and helped me get Silja on the breast correctly, and by Monday things started to look quite a bit better. Silja was taking a couple of small naps during the day and, and after an orgy of feeding around 11pm slept for almost 4 hours, then waking for another feed in about 3 hours, and another one in another 3 hours – so it was a lovely late morning for everyone.
Tuesday was lots of fun as we took her out in her new pram for the first time. She didn't enjoy this too much at first but the shock must have knocked her out and she ended up having a 3-hour nap in the pram, long after we got home.
She was quite awake for the rest of the evening, and after a bath and a big feed around 10pm she slept for a good 4 hours, then did a poo, fed, did an absolutely massive poo, fed again, and slept until 7 in the morning.
So today Silja is one week old, and while I write this she's having a good long morning nap in the big bed where she fell asleep after a cuddle with her big sister and brother before they left for their half term sports camp.
Quite a week – I'm sort of relieved it's over, but on the other hand it's been a really special time and she'll never be a newborn again.