Silja's Sleep Diary: seven months old
Written by Taru, Silja's mom
Seven months old now and baby Silja is doing very well: she takes longer naps and her nights are quieting down more and more. And her mom figures out the best eat-play-sleep routine ...
Silja will be seven months old tomorrow, and her first birthday is now closer in terms of time than the day when she was born. I'm gradually getting used to seeing babies younger than her. And smaller.
Although she was the smallest of our babies at birth there's nothing dainty or delicate about her now, and I need to buy her clothes at least two sizes up based on age.
What I can't get used to is how mobile she has become during the last week or two.
She doesn't really crawl yet but still somehow seems to get anywhere she wants, and it's becoming a bit of a joke to put her on her mat to play.
Within seconds she's pulling books out of shelves and chewing on chair legs and electric cables. I'm going round the flat unplugging everything I possibly can.
While we've descended into chaos in terms of torn books and chewed chair legs,
things have otherwise calmed down noticeably
.
At first we had been trying lots of foods at different times but haven't got all that much down. for weeks we have tried sleeping at different times but the naps have been really short - so lots of effort but not much of a result.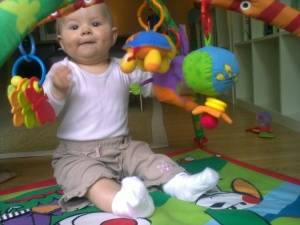 Now
it's all starting to fall into place
, and it's all so obvious I can't believe I didn't figure this out sooner: she simply wants her solid(ish) food when she's just woken up and at her most energetic, then she's ready for some fun and action, and big milk feeds are good when she's tired. Repeat three times a day for a happy and harmonious day.
Silja is still getting up around 7am in the morning,
happy and well rested
but hungry for a "proper" breakfast of porridge and fruit, with milk afterwards.
Her
new preferred naptime
is around noon, today she slept from 11.30am until 2pm (!) on our big bed. She doesn't automatically try to switch off anymore when I put her in her buggy, and is more interested in looking around.
So it's
goodbye to napping during the walk to school
in the morning. Instead of a brisk walk in the park, a trip to a department store may now work better in terms of putting her to sleep in her (smaller, shopping-friendly) buggy.
She loves to watch all the bright lights and colours in shops, and if she's not being entertained by smiling assistants, she can quietly nod off after a while. This will probably ruin both my fitness levels and bank account.
And when we get home, she gets very excited by the bright spotlights in our lobby and in the lift, and giggles and kicks her fat little legs. If we're home at naptime, she might take a token milk feed to get herself in the mood for sleep.
She has a late lunch of something solid after the noontime nap, and is awake when we pick the big kids up from school. If we get home at a sensible time she is normally happy to take
a nap between 4 and 6pm
, although this nap is not always that long.
Today we enjoyed the excellent weather outside until past 6pm, and she only took a bit of milk and a three-minute doze instead of a proper nap. This late afternoon nap is really good news as there's a reasonable chance of getting dinner on the table without incident and Silja waking up happy to join us.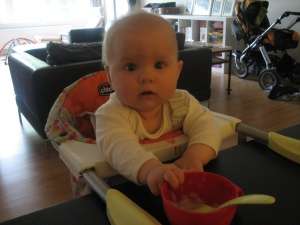 It's still not particularly peaceful as spoonfuls of baby food and bits of finger food fly in the air, but it's better than fussing and crying ...
By
9pm latest
she's normally tight asleep, but although she recognises our bedtime rituals and they clearly help her to settle down, she takes quite long to fall properly asleep.
There's a definite mummy-as-pacifier element in the proceedings as she finishes her milk feed in bed and tries to settle down for sleep. Her sleep is also very light for a long time and she keeps waking up a lot. I wonder if this is simply the sleep of a seven months old.
I'm not quite sure how often as I'm still blissfully unaware of the time at night, but I'd imagine she
wakes up one to three times a night
.
Mostly she doesn't even need to feed, just wants a cuddle or a little suck for comfort. I didn't mind it too much this week when I suddenly got mastitis and had to feed her non-stop to get rid of the infection, but now I'd really prefer a few very quiet nights.
In fact, she's sleeping quietly next to me now, and I think it's time to join my cute little seven months old for a nap.