Silja's Sleep Diary: ten months old
Written by Taru, Silja's mom
At ten months old, baby Silja is starting to settle well in a new routine. The regularity of her sleep schedule helps her sleep better too.
Silja is 10 months old today, and crawling happily on the floor as I write this. In fact, she's chewing her sister's swimming goggles – one of her absolute favourite teething toys. She's just had her 6th tooth!
We're now back 'home' in Switzerland from our vacation 'home' (confusing, isn't it?) in Finland, and things are starting to settle a bit. It's been another crazy month with lots of travelling and very erratic schedules.
We've stayed anywhere from our very basic cabin in the woods (no plumbing, no electricity) to a luxury hotel (where we couldn't get into our rooms for an afternoon nap because Madonna and the family was checking out late).
Finding a routine again
Silja's sleeping has been very erratic as well, not quite as bad as a month ago however. Or it may well be that we've been so busy enjoying ourselves that we haven't paid much attention to the situation. The last couple of days have in fact been really enjoyable.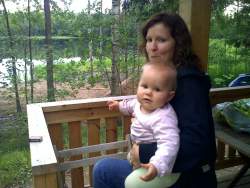 The big kids have started school, and although I think Silja misses having them around, and I miss them too, I've had a chance to pay more attention to her needs and just enjoy being with her. The regularity of the school runs also probably helps to structure her day somewhat.
She's up at around 7am in the morning, and may then have a nap at some point between 9.30 and 11am. A good nap for her is about 2 hours, but she sometimes wakes up in the middle and needs a cuddle before she nods off again. If the morning nap has been early or short, she's often tired at around 1 or 2pm, or a bit later.
I was thinking she could get a good nap at school pick-up time in her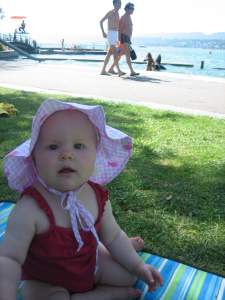 buggy, but we've had pretty extreme weather conditions this week – a heat wave of up to 36 degrees centigrade in the afternoons – so long walks to school have been scrapped in favour of air-conditioned car rides until things improve.
On most days our ten months old takes two naps, but the timing depends on what else is going on. She has one more 'nap slot' at around 5pm if she hasn't napped earlier in the afternoon. Often she's having too much fun with her siblings at this time, and will try to hang on until her bedtime at around 8pm.
We've been thinking and trying out an earlier bedtime for Silja and although it would probably have worked well for her, in the end it just didn't work for the rest of the family.
But never mind, she's now pretty good at going to sleep in her cot. I still nurse her before bed and then carry her into her cot where she mostly falls asleep quickly by herself. If she's not tired she may play a bit, practice her standing and walking around, and then want to nurse a bit more.
The only thing that I really find difficult right now is the fact that she keeps waking up in the evenings, often up to five times, before she's in deep sleep at around 11pm.
She may then sleep almost through the night, but mostly wakes up once around 5am, and can wake up more often.
So overall, things are looking rather good at ten months old, and I'm immensely relieved that we're settling, enjoying our new home and seem to have survived a big transition relatively unscathed. Es geht wir gut!