Silja's Sleep Diary: twelve weeks old
Written by Taru, Silja's mom
At twelve weeks old, Silja's mom discovers cloth diapers as a magical sleep trick. Silja seems to start sleeping through the night quite regularly..
So this week it was back to the normal routines, with big kids at school all week and myself and Silja dropping them off and picking them up.
Still, it doesn't feel like there's much of a routine to daytime - the journey to and from school is too short for her to fall asleep if we go by car, and the weather hasn't really favoured cycling or walking. But I'm sure things will improve as we get closer to spring, longer days and nicer weather!
A magic baby sleep trick: cloth diapers!!!
Nights, on the other hand, have been just fantastic. She's gone to sleep - after very long feeds but without any fuss - every night
before 10 pm
. Last week she kept waking up a couple of times every night, but this week she once slept until 5 am,
mostly until 4 am
. This is a nice sleep through night for a twelve weeks old baby!!!
It might be just coincidence or her getting bigger, but
I think we've found a magic ingredient - reusable nappies!
I've always wanted to use them,
both for environmental and economical reasons
, and ordered a trial pack before she was born.
I did a bit of research on the internet and decided to go for ones that are suitable from birth until the baby is potty trained, which seemed like a good investment.
The ones we got are made of wonderfully soft micro fleece and have a pocket for absorbent pads so the absorbency can be adjusted.
However, even with the smallest pads they looked so bulky compared to disposable nappies that I just didn't feel like using them on her.
They must have felt
incredibly comfortable
but her bottom seemed at least three times the size of her head - not a good look, even for a baby. But now she's quite a bit bigger and I thought it was time to try them on again, and I figured that no-one would notice her humongous bottom if we used them at night ... :)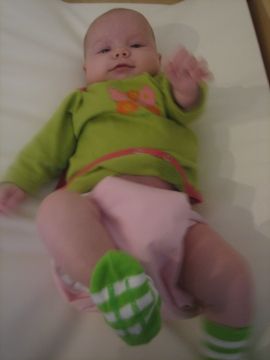 The next morning I woke at 5 am, in panic as usual after such a long stretch of sleep, to check that Silja was still breathing. She was, and she was soaking wet as well, but very happy after a nice long sleep.
By 8 am I had placed an order for the full kit and was ecstatic (although
kicking myself for not trying these magic cloth diapers before
) about being able to save the planet and get my baby to
sleep through the night
at the same time.
It's pretty strange though, I would never have thought that
just having more comfortable nappies could have such an impact on sleep
.
But then, having been in 'nappies' myself for several weeks not too long ago, I'm sure wearing soft micro fleece instead of maternity pads would certainly have been more comfortable - so I guess it all makes sense.
Of course, there was a downside too, unfortunately.
My breasts were feeling distinctly full in the morning as Silja had missed at least one of her normal night breast feeding. She slept most of the morning in her buggy while we took a long walk on Hampstead Heath, and by the afternoon I had a viciously blocked duct on my left breast.
I fed her at every imaginable opportunity (kicking myself for not taking more care) but the blockage just got more painful and I started to feel a bit feverish. Then suddenly at 2 am it disappeared, the pain was gone and Silja went happily back to sleep.
Since then, it's been
reusable nappies every night
, and we're anxiously awaiting delivery of more so we can start using them at daytime, too - never mind the big bottom! Hope Silja won't mind too much when she looks back at her twelve weeks old photos in a year or ten ...